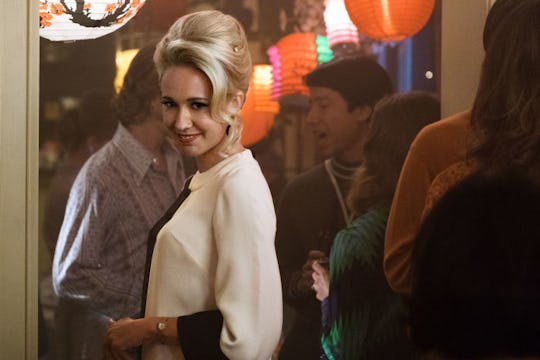 Amazon
Is Jane Hollander From 'Good Girls Revolt' A Real Person? She's A Key Voice In The Story
Good Girls Revolt is Amazon's latest original series and it follows a landmark case in workplace discrimination. In 1970, 46 female staffers at Newsweek sued their employers for gender discrimination in a first of its kind lawsuit. Good Girls Revolt features a mix of historic and fictional characters working at a fictional news magazine based on Newsweek. Anna Camp, of True Blood and Pitch Perfect fame, plays a researcher named Jane Hollander who gets swept up in the lawsuit. But is Jane Hollander from Good Girls Revolt a real person?
In the series, Jane is pretty true to Anna Camp's typical roles: wealthy, well-to-do, groomed for picture-perfect conventional life. While she works at the fictional magazine News of the Week, she sees it merely as a stopgap until she gets married and has babies. But as Jane drifts further and further from making that a reality on her timeline, she worries about her future and whether it will really play out as she pictured.
At Newsweek, during the late '60s, women could be mail girls, fact checkers, or reporters, but they couldn't be staff writers or senior editors. In other words, they could never work up to being real journalists. Nora Ephron famously quit her job as a mail girl there because she realized this was the protocol at the outlet early on. She wound up being worked in as a character on Good Girls Revolt (played by Grace Gummer), but the character of Jane is actually fictional.
Jane does, however, represent a real roadblock faced by some of the women in the workforce at the time. In a 2012 interview, Lynn Povich (the author who wrote the book the show is based on) said of the female Newsweek staffers, "Most of us who were hired in the early-to-mid-1960s didn't know what we wanted to do, or even if we wanted to have a career."
In other words, many women got stuck in the expectations being projected onto them and needed help challenging their own beliefs. Jane seems to channel some of that attitude. Anna Camp told Elle of her character:
"Jane grows a crazy amount on the show because she starts out as a woman with '50s ideals. She's not really aware that there's a problem in the workplace because she doesn't understand that there are any other choices in life as a woman and in that time period. She meets with the other girls, and they start to question everything that's going on, and I think she's really resistant at first. But then she finds out that they are right, and she does deserve better, and she wants to have the same opportunities that the men are getting, and they're getting all the credit when she's doing almost all of the work."
So while Jane Hollander didn't exactly exist as a real person, her identity and beliefs are obviously rooted in truth and an important part of the story. You can catch Good Girls Revolt on Amazon starting Friday, Oct. 28.