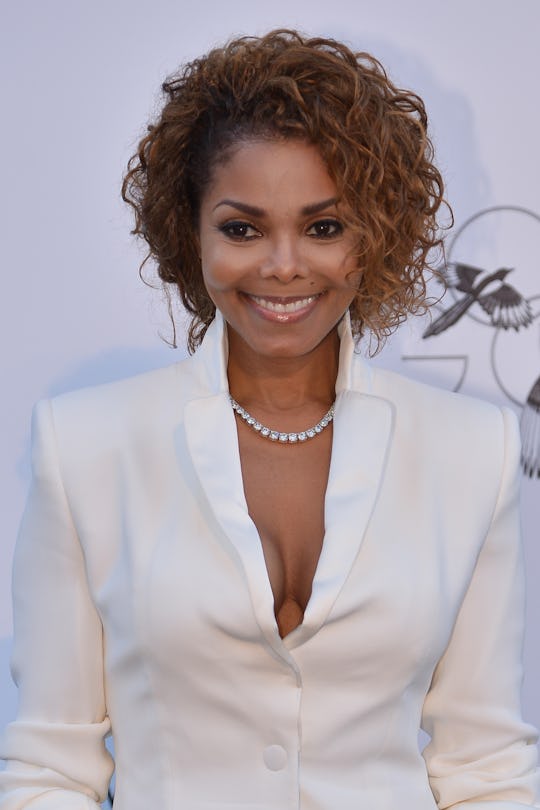 ALBERTO PIZZOLI/AFP/Getty Images
Is Janet Jackson Having A Boy Or A Girl? Fans Will Just Have To Guess
Singer Janet Jackson is due any day now, and the world is anxiously waiting for the latest addition to the Jackson family. Until the little one shows up, however, fans will likely continue their quest to find out as much as possible about the tot, and many are rightfully wondering: Is Janet Jackson having a boy or girl? Unfortunately for the curious fans, the Unbreakable singer and her husband, Qatari businessman Wissam Al Mana, have kept most details related to Jackson's pregnancy pretty quiet, so the public will just have to keep guessing for now.
According to Jackson's brother Tito, not even the couple themselves know. In June, during an interview on Sirius XM, Tito said Jackson and Al Mana didn't know the baby's gender. He said the pair was just "hoping for a healthy baby." In May, after news broke of Jackson's pregnancy, Jackson's brother Jermaine told People, "I hope she's having a girl. We need more girls in the family. There are too many boys."
Jackson shared news of her pregnancy in April, after postponing part of her Unbreakable tour. "We're in the second leg of the tour and there actually has been a sudden change," she explained in a video message at the time, according to Us Weekly. "I thought it was important that you would be the first to know. My husband and I are planning our family, so I'm going to have to delay the tour. Please, if you can, try and understand that it's important that I do this now. I have to rest up, doctor's orders! But I have not forgotten about you. I will continue the tour as soon as I possibly can."
Since then, Jackson has remained fairly tight-lipped about her pregnancy. Luckily for fans, however, her brothers have opened up a bit more to reassure the public that their sister was doing well. "She's taking it easy," Tito said during his Sirius XM interview in June. "As you know, she is off tour, protecting her health."
Jermaine also told People he wasn't worried for Jackson. "She'll be a great mother because she is very tough, very strict," he said. "I tell her, 'If you need any parenting skills or any baby skills, let me know, because I'm the best diaper changer there is on this planet, still to this day.'"
It sounds like Jackson will have quite the support network backing her up once the baby arrives — and she'll certainly have many interested fans waiting on a first picture of the adorable baby girl. Or boy. I mean, not knowing is part of the fun, right?