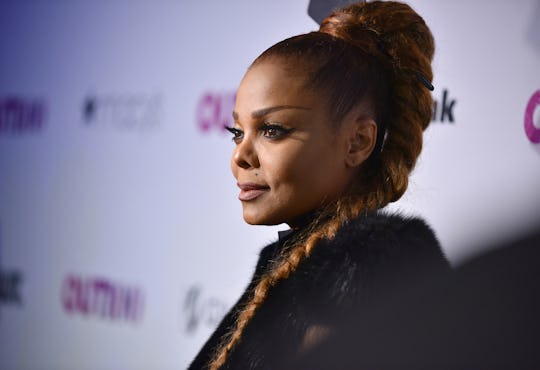 Bryan Bedder/Getty Images Entertainment/Getty Images
Janet Jackson May Definitely Have Some Thoughts About The 2018 Super Bowl
It's almost impossible to believe that it's been 14 years since Janet Jackson and Justin Timberlake performed during a Super Bowl halftime show that would go on to be known as "Nipplegate." The scandal — which involved Timberlake exposing Jackson's nipple during their performance together — became a night not many will ever forget, including Jackson herself. So now that Timberlake is headlining this year's halftime show, many may be wondering: is Janet Jackson watching the 2018 Super Bowl? Given her history with this particular football event, she may be curious as to what her former stage partner has in store this time around.
As of now, Jackson has yet to make any comment on social media to suggest that she's watching the game, but that obviously doesn't prove that she isn't tuning into the sporting event. She's not one to post her every move on social media, so that could be the case in this particular instance. Furthermore, fans have been theorizing a possible reunion between the two musicians during this year's halftime show. Many believe Jackson will appear on stage with Timberlake at some point throughout his performance. So could this really be the case? I wouldn't get my hopes too high.
Timberlake has tried to shut those rumors down, recently stating at a press conference in Minneapolis, Minnesota, as reported by People, that there won't really be a special guest. "To be honest, I had a ton of grand ideas about special guests," he said. "There's a whole list. I think Vegas has a lot of odds on it, from 'NSYNC to Jay [JAY-Z] to Chris Stapleton to Janet." Instead he wants to focus the attention on his band, the Tennessee Kids. "I feel like they're my special guests," Timberlake added. "I'm excited to rock the stage."
Meanwhile, Jackson herself has spoken out on the matter, telling People in a statement that she won't be joining Timberlake in the halftime show. "To put to rest any speculation or rumors as to whether I will be performing at the Super Bowl tomorrow: I will not," she told the outlet. "Thank you for your support and I do look forward to seeing you all very soon." She posted the message on Twitter as well:
Fans will know for sure at the halftime show whether this will actually be the case or not, but if Jackson is not in attendance, then it's completely possible she's watching the whole thing play out from the comfort of her living room. Though I wouldn't expect her to experience any sense of déjà vu while watching the performance. During a recent interview with Beats 1 host Zane Lowe, Timberlake addressed the 2004 incident and assured everyone that there will be no wardrobe malfunctions throughout the night. This reiterates what he told Sunday Night Football back in October, stating that "That won't happen this time."
But despite the backlash from their memorable performance together, Timberlake claimed during his Beats 1 Radio interview that there's no bad blood between the two of them and that he and Jackson are on great terms. "Absolutely," he said. "And I don't know that a lot of people know that." So if that's true and Jackson really is watching his performance this evening, it's possible she'll be cheering him on. Though, of course, I can't confirm this theory for sure since I am not BFFs with Jackson and was not invited over to her house for the evening. (Way to rub it in my face, everyone.)
Either way, it's bound to be an exciting evening full of tons of delicious food, amazing performances, and memorable (if not sometimes creepy) commercials. Oh, and there will be football too, I suppose. (I heard a rumor it's been known to happen sometimes at the Super Bowl.) Regardless, you better believe I'll be on the edge of my seat (and constantly refreshing Jackson's Twitter page) throughout the majority of the evening.
Check out Romper's new video series, Romper's Doula Diaries:
Watch full episodes of Romper's Doula Diaries on Facebook Watch.