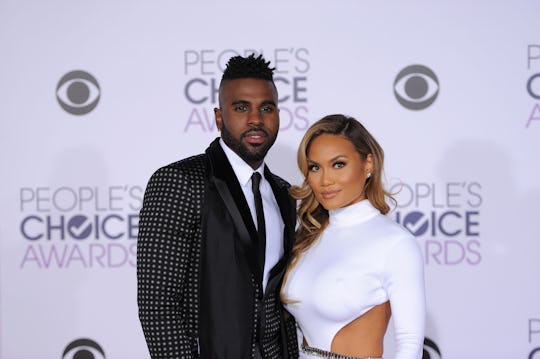 ANGELA WEISS/AFP/Getty Images
Is Jason DeRulo Single? He Is No Longer "Ridin' Solo"
When Jason Derulo released "Marry Me" two years ago and his girlfriend at the time, Jordin Sparks, appeared in the video, fans couldn't help but think that meant they'd be heading down the aisle soon. Unfortunately, for those of us who shipped Derulo and Sparks, the wedding never happened and the couple broke up last year after dating for three years. Since then Derulo and Sparks have both moved on and started dating new people. So, is Jason Derulo single at the moment? He's no longer "ridin' solo."
Derulo his new beau is model Daphne Joy. Joy who has a son, Sire Jackson, with 50 Cent. Derulo and Joy first became public when they celebrated the new year on the beach in Miami, Florida. The two have been attached at the hip ever since.
Joy was Derulo's date to the People Choice Awards earlier this year and she even went to Paris when he performed there as part of his "Everything Is 4" tour. Derulo then returned the favor by going to New York to watch Joy as she walked in New York Fashion Week. We can probably expect to see Joy at the iHeartRadio Music Awards show on Sunday, April 3, then, since Derulo is the host.
According to Billboard, Derulo said in a statement, "iHeartRadio has been such an important supporter of mine and I'm thrilled and honored to be hosting this year's iHeartRadio Music Awards."
And why wouldn't he be excited? The iHeartRadio Music Awards are sure to be an amazing show filled with performances from some of the best musicians out right now including, Zayn Malik, Chris Brown, Fetty Wap, Demi Lovato, Meghan Trainor, and so many more.
Also, Derulo's good friend, Taylor Swift, will be honored with the Best Tour Award for her "1989 World Tour" that Derulo himself even made an appearance in.
One person who may not be in attendance at the awards show is Derulo's aforementioned ex, Jordin Sparks. Besides the fact that her ex is hosting and she recently broke up with another singer, Sage the Gemini, Sparks also recently had eye surgery, and may not be able to attend the show.
No matter who does or doesn't show up to the iHeartRadio Music Awards, as long as Derulo has Joy by his side, I'm sure he'll be just fine.