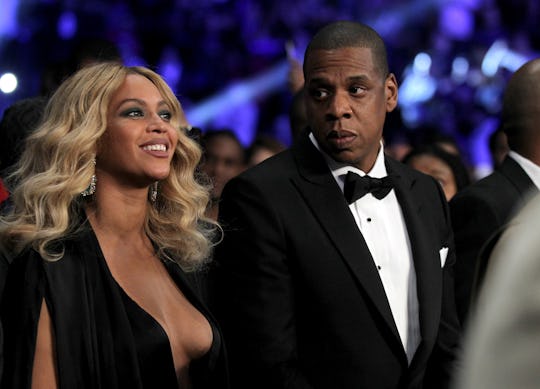 Isaac Brekken/Getty Images Entertainment/Getty Images
Is Jay Z Going On Beyonce's Formation Tour? He Won't Be On The Stage With Her
The intensely personal lyrics in Lemonade might have renewed rumors about whether Beyoncé and husband Jay Z have dealt with infidelity, but what's actually happening in the couple's marriage — for now at least — remains behind closed doors. Just last night, Beyoncé kicked off her 40-date Formation World Tour with a sold-out show at Marlins Park in Miami, according to Billboard magazine. And during her performance, she dedicated a song to Jay Z, who was watching from the audience. But, given that so many of the power couple's most popular songs are actually duets ("On The Run" and "Drunk In Love" come to mind) fans might be wondering if Jay Z is going on the Formation Tour. And, according to reports by Billboard and others, it doesn't sound like the rapper and music mogul will be joining his wife on the road this time.
The couple are certainly no strangers to the rumor mill. Their high-profile relationship has been the subject of fan scrutiny since its beginning sometime in the late 1990s. But recently, a whirlwind of divorce rumors have followed the couple, made only more intense after Beyoncé dropped her sixth album, Lemonade, which came loaded with lyrics that seemed to be targeted at putting her husband's alleged infidelities and betrayals out for everyone to see. (Neither Bey nor Jay Z have confirmed that the album is about them, and fans have rightly pointed out that it could be about many other things.)
On Wednesday night, Beyoncé kicked of her stadium tour, with a two-hour mix of fan favorites, songs from Lemonade, and special dedications, including a special one for her husband. After showing clips of family videos (familiar to fans who've seen the Lemonade film), the superstar sang her hit song "Halo" and dedicated it to Jay Z, according to Billboard. "I want to dedicate this song to my family, thank you guys for supporting me," Beyoncé said. "I want to dedicate this song to my beautiful husband, I love you so much."
Sweet, right? And it wouldn't be the first time the Carters went on the road together. The couple co-headlined their 2014 On The Run Tour, hitting just 19 cities but raking in more than $96 million, according to a separate Billboard report.
Still, in Miami the rapper stayed off-stage during his wife's performance, and that seems unlikely to change as Beyoncé and her team trek across Canada, the U.S., and Europe through June, according to a USA Today report. In an article listing the performers slated to join Beyoncé's world tour — which has so far included DJ Kahled, Lil Wayne, Yo Gotti, Rick Ross, and Future — Jay Z's name was absent.
But, keeping the Formation tour as a one-woman show might be exactly the right move for the superstar. Since stepping out as a solo act with her 2003 release of Dangerously in Love, Beyoncé has used her music to connect with female fans about everything from heartbreak, to healing, and empowerment. And Lemonade seems to be the culmination of that message, with its intense themes of revenge, jealousy, and rage. Of course, the lyrics could all be metaphorical — the couple might be doing just fine behind closed doors — but it's easy to imagine why Jay Z might want to sit this one out.