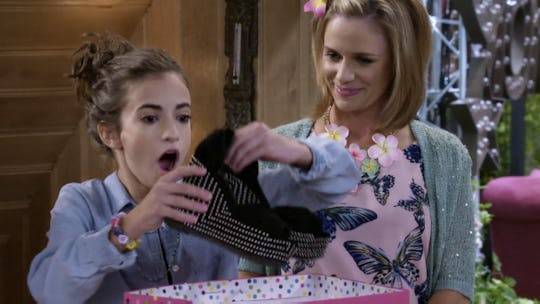 Is Jeffrey Campbell A Real Shoe Designer? 'Fuller House' Featured The Real Deal
If there's one thing Fuller House is taking plenty of liberties with during its first season on Netflix, it's pop culture name-dropping. From Coachella to "on fleek" to iPads, Fuller House is practically going out of its way to remind us that even though it's been 20 years since we last saw the Full House gang, they're still cool, they're still hip — they're still totally down with the kids these days! Case in point? Episode seven, "Ramona's Not-So-Epic Party." In it, Ramona (Kimmy Gibbler's daughter) scores a pair of Jeffrey Campbell shoes — the ones Ramona has always wanted. So, we had to ask ourselves, is Jeffrey Campbell a real shoe designer?
Ohhhhh yes. And not only that, Jeffrey Campbell is the kind of shoe designer that you either love or your hate. There is no middle ground of "meh" when it comes to Jeffrey Campbell shoes. Worn by celebs and fashionista like Sophia Amoroso of Nasty Gal, Oprah Winfrey, and even the Olsen twins, Jeffrey Campbell shoes feature some pretty exotic and downright wonky designs that seem almost impossible to actually walk in — hence the strong love/hate vibes for the man's shoes. With freakishly tall heels and platform wedges occasionally stuffed with Barbie doll heads, Jeffrey Campbell shoes are definitely an acquired fashion taste.
In episode seven, Ramona pulls a pair of either rhinestone or studded black platform wedge heels: All signature Jeffrey Campbell trademarks. We couldn't find an exact match of Ramona's shoes on the street — and it's entirely possible that these could have been custom designed by Jeffrey Campbell for Fuller House. That said, Ramona's birthday kicks very closely resemble a black pair of these Jeffrey Campbell "Lambada" shoes, if you filled in the gap between the platform heel and the sole:
And if you're looking to strut around in your very own pair of Lambadas, these will set you back at least $175.
It's no surprise Fuller House is laying on the fashion shout-outs: After all, Michelle Tanner is "running her fashion empire in New York", a.k.a., Fuller House's meta-acknowledgment of the obviously missing Olsen twins. Who knows: Maybe Mary-Kate or Ashley pulled some of their own fashion empire strings to get a pair of Jeffrey Campbells on the set of Fuller House?
Fuller House is available for streaming on Netflix.