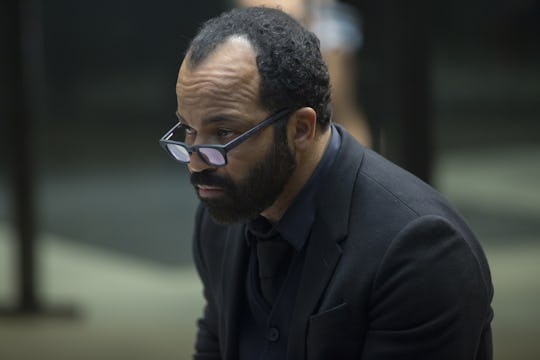 John P. Johnson/HBO
Is Jeffrey Wright Leaving 'Westworld'? Bernard's Death May Not Be The End Of His Story
So there's good news and there's bad news. The good news is that Westworld is officially coming back for a second season. The bad news is that we don't know if our beloved Bernard will be coming back with him. It's like Jon Snow all over again. So is Jeffrey Wright leaving Westworld? Well, Bernard's death may not be as final as you may think. The thing about robots is that they can generally be repaired. Even when they die, they can come back to life. But sometimes they don't come back the same.
As Maeve, the undisputed MVP of the androids (don't argue with me on this one), once said, "You think I'm scared of death? I've done it a million times. I'm f**king great at it." So with that in mind, even though Bernard was last seen shooting himself in the head because Ford commanded him to do it, he can still be repaired and brought back online. Probably Ford is the only person who could do this as any of the other techs would then learn that Bernard is a host and not a human. Plus, this interaction took place at their own secret rendezvous location, which I doubt anyone else knows about.
But the thing is that even if Ford does indeed choose to bring Bernard back, it's highly unlikely that Bernard will be allowed to retain all the things he just learned. It's probably not even the first time he's died like this, in my opinion.
What is nerve-wracking, though, is actor Jeffrey Wright's answer to a certain question during an interview with TVLine. Jimmi Simpson (who plays William on the series) has said that the show doesn't end on a cliffhanger. However, when Wright was asked what his first thoughts were when he got the script for the Season 1 finale, he said, "'Where's Bernard?' When I got the script, that was my question." I'm sorry, but what? For starters, that certainly sounds like a cliffhanger to me, and now I'm incredibly nervous that Wright and Bernarnold (my new nickname for him) won't be back for Season 2 after all.
Obviously we don't know what's going to happen next and whether or not Bernard is going to survive all of this Westworld insanity. There's no official word yet as to whether or not Wright will be a part of the second season. But of course there wouldn't be, because that would ruin the cliffhanger. Hopefully the finale will be able to provide us with a more definitive answer.