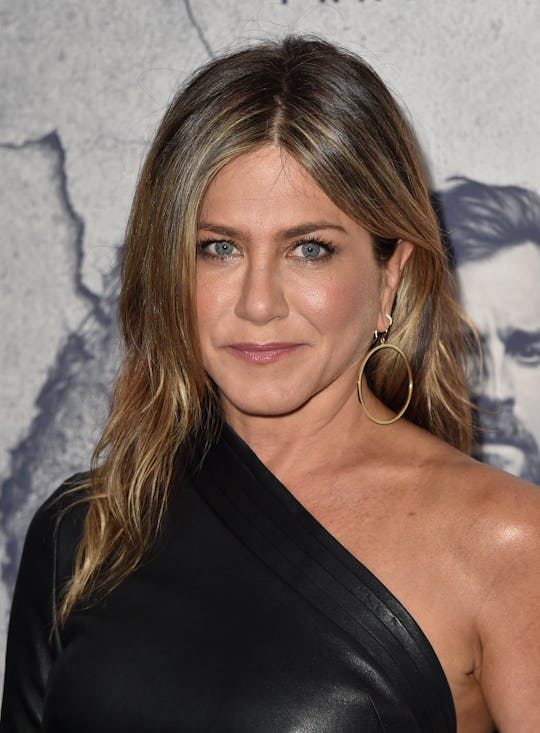 Alberto E. Rodriguez/Getty Images Entertainment/Getty Images
Is Jennifer Aniston At The 2018 Oscars? People Want To Know
Since the year 2005, I have spent more time than what is strictly necessary or even rational contemplating Jennifer Aniston's breakup with Brad Pitt, his marriage to Angelina Jolie, their breakup, then Aniston's marriage and breakup with Justin Theroux. There is no logical reason for me to be so swept up in other people's love lives but at least I can admit it. That's why I need to know, is Jennifer Aniston at the 2018 Oscars? You know, just in case she bumps into Brad or Angelina on the red carpet and there's some sort of drama. I know that even if they all were there and did run into each other no drama would probably occur, I'm sure Aniston has moved on, and I'm sure Pitt is more concerned with the recent breakup than the one from almost 15 years ago. But still. And I know I'm not the only one.
At the Golden Globes, Aniston was presenting an award, and cameras caught Jolie looking down and not at the stage while Dakota Johnson appeared to be taking a sneaky glance over at Jolie to see her reaction. Johnson insisted that she was not looking at Jolie and Jolie was probably not trying to be shady. But... maybe they actually were? I don't have time to watch daytime soap operas, guys. Let me have this.
Some gossip magazines even claimed that Aniston and Pitt had gotten back together after Aniston's divorce from Justin Theroux. However Gossip Cop, which tends to be pretty accurate in these matters, said that the rumors were just that — rumors. Nevertheless, it's always exciting to see Aniston at an awards show (whether she's single or not). And this just proves that no matter how long it's been, the Aniston/Pitt/Jolie saga is bizarrely riveting.
Unfortunately for everybody who was looking forward to a showdown that may or may not have been entirely imaginary, Aniston did not attend the 2018 Oscars, most likely because she was not presenting and wasn't in an Oscar nominated movie this year. However, because I've decided to commit to this narrative in my head, maybe she avoided the ceremony because she didn't want the run the risk of running into Pitt or Jolie and have to have an awkward red carpet moment in front of dozens of cameras and the whole world waiting for some sort of fight. Okay, yes, this is probably not the reason, I'm aware.
As for what she's doing instead, I've been searching Aniston's social media for hints as to how she's spending her night. Unfortunately, Aniston is (understandably) pretty private on her social media. She posts plenty of pictures of herself, though mostly close-ups or professional headshots with inspiring captions like, "Wake up, Smile and tell yourself : Today is my Day; and it is beautiful," or "Live. Laugh. Love." So maybe she's hiding her pain behind these feel-good quotes and sunny photos. Or maybe she's really just living her life and it is none of anybody's business and can't we just leave her alone for once?
Even though Aniston is not at the Oscars and so will not be able to give anyone an awkward look for gossip blogs to freak out about for the next several months, there are several other stars who actually are at the Oscars to freak out about. Let's all freak out about Greta Gerwig and Jordan Peele (my personal 2018 heroes) instead. I guess I'll just have to save my Aniston and Pitt fan-fiction for another day.
Check out Romper's new video series, Romper's Doula Diaries:
Watch full episodes of Romper's Doula Diaries on Facebook Watch.