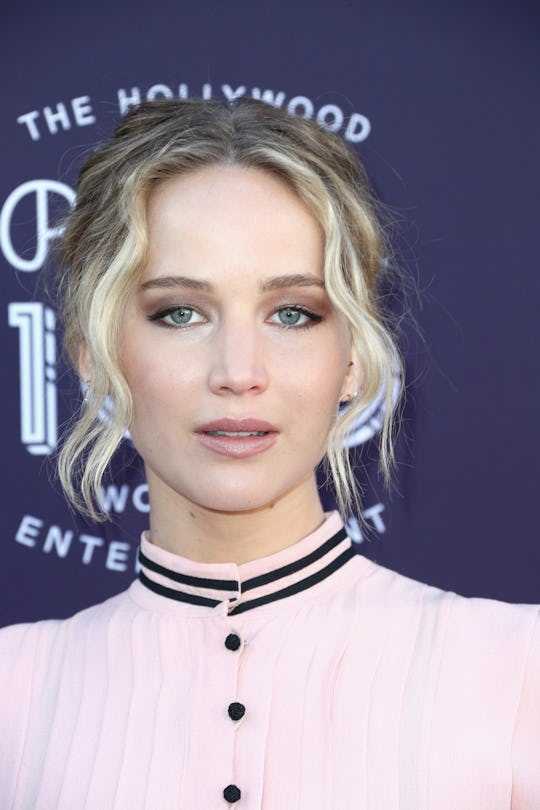 Frederick M. Brown/Getty Images Entertainment/Getty Images
Here's Why Jennifer Lawrence Probably Won't Show Up At The Golden Globes
As cheesy as the saying, "trends come and go," is, it's true. And it also applies to people, unfortunately. For whatever reason, Hollywood has certain power couples, hot dudes, and "it girls" that change every season. And so, while her reign as it girl appears to be over, people are still wondering if Jennifer Lawrence is at the 2018 Golden Globes? Well, she hasn't made an appearance at the show in awhile, so the fact that she didn't show up isn't too surprising.
What's more, Lawrence wasn't nominated for any Golden Globes this year, so her absence is isn't surprising. In fact, many were shocked when Lawrence didn't receive a nomination for her role in the much talked-about film, Mother!
Seriously, there was some drama surrounding that movie and its message, so a lot of people were assuming that Lawrence would be nominated for her depiction of the titular character. As Variety reports,
The fact that she didn't earn a nomination for "mother!" means that Darren Aronofsky's drama about a woman who lives on an abandoned farm isn't going to be an awards contender.
Lawrence hasn't won a Golden Globe since the 2016 awards for her role in Joy, which was based on the true story of Joy Mangano, the inventor of the Miracle Mop.
So for a number of reasons, Lawrence's absence isn't too surprising. After all, would you want to spend hours upon hours getting your makeup and hair done and trying on dresses to go to a show that you don't even have the possibility of walking away from with a shiny award in your hand?
Well, maybe you would, but it's understandable that Lawrence wouldn't. However, that doesn't make it any less sad. Her presence at awards shows has come to be somewhat of a show in and of itself. Lawrence's goofy and lovable persona has allowed her to become one of Hollywood's It Girls, but her absence of a social media presence makes it hard to keep up with her outside of her scheduled appearances and interviews. And I mean, come on. Lawrence is funny, relatable, gorgeous, and super personable; she's basically the ideal person to have walking the red carpet and doing interviews. She brings the party, even if she may trip a few times on her way to the door.
This year, though, Lawrence will not be receiving a Golden Globe, which is probably pretty shocking for her. As the Golden Globes website reports,
At only 27, Jennifer Lawrence has won four Golden Globes (Joy, American Hustle, Silver Lining Playbook, Winter's Bone), one Oscar (Silver Lining Playbook) and attended many film festivals as she traveled the world also promoting her blockbuster trilogy The Hunger Games.
Her role in Mother! won't be winning her another Golden Globe, though. But, based on her interviews, that isn't too surprising. And Lawrence herself probably wasn't shocked when she wasn't nominated. After all, Mother! isn't an easy movie to watch and the creators of the film recognized that. At the Toronto Film Festival, Lawrence explained that, according to the Golden Globes website,
Darren's films have been booed at festivals before because they are polarizing. We didn't make this film to be a darling. It's very loud, it's aggressive and it's an assault. What is most important to us is getting the message out. Darren had this story burning inside of him and just had to get it out.
Sometimes, actors decide to participate in projects that they know won't be well-received by the general public because they're too edgy or polarizing or hard to watch. Lawrence seems to have done just that, and I bet she's pretty pleased with that decision as she sits on the couch on a Sunday night, wearing sweats and eating pizza.
Check out Romper's new video series, Romper's Doula Diaries:
Watch full episodes of Romper's Doula Diaries on Facebook Watch.