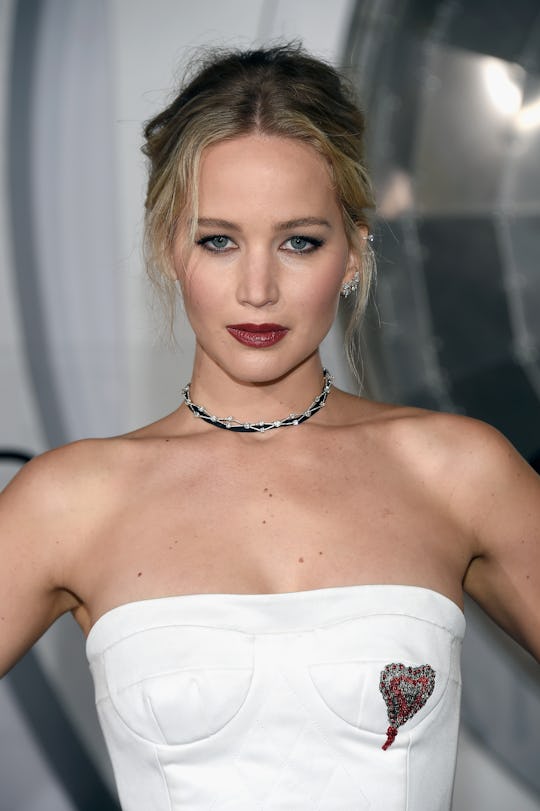 Matt Winkelmeyer/Getty Images Entertainment/Getty Images
J. Law Fans May Be Disappointed At The Oscars
The Academy Awards are finally upon us. With an excess of critically-acclaimed films and performances to choose from this year, it's sure to be a night full of surprises. But, as usual, much of the conversation revolving around the ceremony has to do with which stars are present/what they're wearing and which of Hollywood's major players chose to skip out on this year's festivities. In particular, many viewers are wondering: is Jennifer Lawrence at the Oscars this year?
Lawrence has been an awards show darling ever since she first rose to prominence for her performance in 2010's Winter's Bone, for which she earned her first Academy Award nomination (and became the second-youngest woman ever to be nominated for Best Actress at the time). She's an oft-nominated star, earning three more Oscar nominations since her first and winning one for 2012's Silver Linings Playbook. Her popularity on red carpets and at awards shows is largely thanks to the candid, cheerful, say-anything/do-anything persona for which she's become known.
While many were hoping that the former Hunger Games star would make an appearance, she technically has no reason to be at the ceremony this year. According to the released list of presenters, she's not set to hand out any golden Oscar statuettes this year. Lawrence also wasn't nominated for her performance in Passengers, her sole major film role in 2016. Other actresses and actors have attended the ceremony even when not nominated (otherwise the audience would be pretty empty), but Lawrence does have a history of skipping out on the ceremony when not involved. She didn't attend the 2015 Oscars, leading us to miss out on classic Jennifer Lawrence reaction shots like this:
And now that most of the red carpet interviews have come and gone — with a Lawrence sighting yet to be spotted — it's looking more and more likely that she will be MIA throughout the evening, unfortunately.
In particular, it's a little surprising that Lawrence is seemingly not there to cheer on her close friend, Emma Stone. Stone is up for a Best Actress win for her role in the record-setting La La Land, a film which tied Titanic for the most nominations at the Academy Awards, and many are certain that she'll win. Lawrence even jokingly called out her friend on the 2013 Academy Awards red carpet, the year that Lawrence won for Silver Linings Playbook, so it's clear that the two are close.
With the lack of the Joy actress at the Oscars, it seems we won't be treated to any instantly-memorable (and meme-able) mishaps, like her award acceptance tumble heard 'round the world.
We'll just need to wait until her next award-worthy performance to be treated to another classic J. Law moment. Perhaps it will be her performance in Mother!, the upcoming 2017 film she stars in directed by her rumored boyfriend Darren Aronofsky, that brings her back to the Academy Awards red carpet once again.