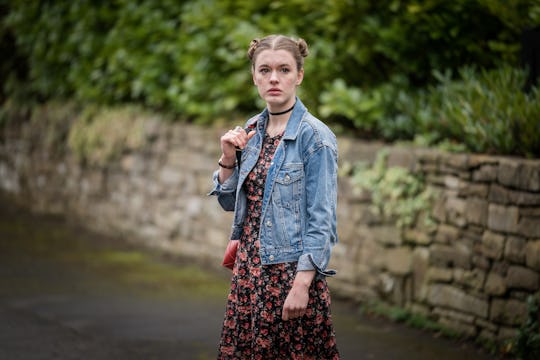 Ben Blackall/Netflix
Jenny's Story On 'Safe' Is Every Parent's Worst Fear
Netflix has brought an all-new thriller to its streaming site this Thursday. The new series, titled Safe, takes place in a gated community in an English suburb and follows Tom, whose wife died a year ago. He's raising his two daughters on his own when his eldest daughter, Jenny, goes missing. So is Jenny from Safe based on a real person?
Unfortunately, stories about young girls going missing aren't all that uncommon, so it's totally understandable that people would think Safe is based on true events. Thankfully, that doesn't appear to be the case in this particular situation. There's no mention about the series drawing from true events, and while it may have been inspired by things that happen in the news much too often, it doesn't look like the character of Jenny is based on a specific, real-life individual.
Instead, she appears to be entirely fictional, which shouldn't be surprising since the show's creator, Harlan Coben, is also a New York Times bestselling author. He's known for writing thrilling novels so it makes sense that he created a thriller mystery series. He's also the mind behind the British series, The Five, which also centered around a missing child. However, unlike The Five, which takes place 20 years after the kid goes missing, Safe will dig deeply into finding Jenny and figuring out what happened to her the night she essentially (and mysteriously) disappeared.
The series stars Emmy-nominated actor Michael C. Hall as Tom and Sherlock's Amanda Abbington as Sophie, the detective investigating Jenny's case. As the pair look for answers, both separately and together, it quickly becomes clear that everyone in this gated community has secrets, including Tom himself. Besides the mystery surrounding what happened to Jenny, there's also the question of what happened the night Tom's wife died.
Though the preview gives no hints about this aspect of the story, the show description claims "a mystery from the night of [Tom's] wife's death will be revealed." Is it possible Tom killed his wife? Who knows, but that's half the fun of watching a mystery thriller. You never really know who's innocent and who's guilty. Over the course of the eight episode-long season, viewers will be taken along for the ride as everyone in the gated community is forced to face the skeletons in their closets.
In an interview with Express, Abbington called the new series "thought provoking" and revealed that it deals will very real issues. "I think there's also a feeling now that we're less trusting because there's not a sense of community any more," she said. "People are just much more about themselves and I think that makes you more likely to look over your should."
For Hall, he told Express that he was drawn to the series because "it was strong and filled with characters that I could immediately identify with, and there was a great deal of complexity and dimension." He also added that he enjoyed "playing a character who was more or less a regular guy around whom crazy things are happening, as opposed to a crazy guy doing crazy things." Hall played a police forensics blood-spatter analyst who moonlighted as a serial killer for eight seasons of Dexter. Thus, this is certainly a very different role for him.
There's obviously a lot to look forward to with Safe, and it definitely has the makings of being a hit. Filled with mystery and intrigue, this is definitely a series you'll probably hear people talking about. So before someone spills the show's twists, make sure to check it out.
Safe is now streaming on Netflix.