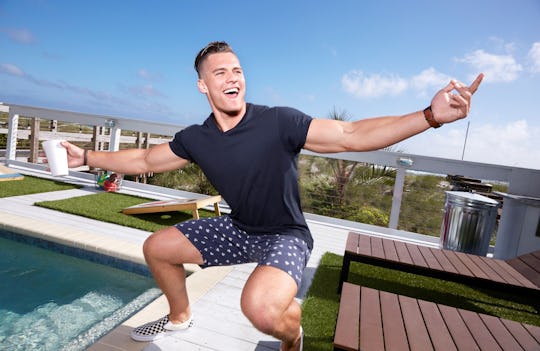 MTV
Here's What We Know About Jeremiah's Relationship Status After 'Floribama Shore'
MTV's reality series, Floribama Shore, follows a cast of 20-somethings living in a house together, while they party it up along the Florida coast. While each house member is intriguing on their own, Jeremiah seems to be among the most popular in the house. Whether it is because of his sweet nature or his washboard abs, fans are super interested in the 23-year-old Florida native. After seeing him go on a few dates this season, people are wondering, is Jeremiah single after Floribama Shore?
While he hasn't made any official announcements about his relationship status through the media, or any of his social media accounts, the chemistry between Jeremiah and Kortni throughout Season 2 has fans intrigued. He did take Kortni out on a date last season, and told her that she was "not that hard to look at," but then just decided that they were just friends.
However, during Episode 9, Kirk theorized that Jeremiah has a weird crush on Kortni, and is hiding it so no one finds out. Jeremiah's bestie, Gus, also chimed on the situation, calling out their obvious chemistry. "They're both single at this point, might as well have some fun. From my perspective looking in, I do see that Jeremiah looks at Kortni a certain way," said Gus. "Really, Jeremiah and Kortni could be a good balance for each other. Opposites do attract."
Jeremiah has also been very protective of Kortni, leading people to think he likes her. When her ex-boyfriend Logan showed up at a bar to stalk her, Jeremiah ushered Kortni out to the car to safety. "Kortni is literally shaking, and frankly, I'm pissed," he says in a confessional. "I would welcome it if Logan shows up to the house. I want him to give me a reason, just give me one reason to lay hands on you." He held her hand during the car ride home, which had people on Twitter speculating a budding romance:
Of course, the natural thing to do is check their social media pages for clues, but unfortunately, neither Kortni or Jeremiah's Instagram or Twitter pages feature any hints about a romantic relationship. Kortni did post one Instagram selfie with Jeremiah that is layered with hearts, but that's exactly evidence of a romance. Plus, in Episode 8 of Season 2, when Jeremiah brings his date Kelly home, he tells her that he isn't looking for anything serious, which may signal the fact that he wants to remain single. "Right now I do have a set goal of where I want to see myself, and I don't want to tie myself down right now," he tells her.
Jeremiah's most recent post reveals that he has moved across the country to Arizona, which would put him far away from Kortni who still lives in Florida. On his post, Jeremiah writes, "Arizona has been an amazing move and experience, but the one thing that makes it amazing is who you're with," adding how grateful he was to have his brother Joshua and castmate Gus with him there.
While his romantic situation is still a mystery, Jeremiah has pretty vocal about his professional ventures. He is currently an athletic representative of Fit Strong Supplements, an endurance supplement company that supplies fitness shakes and diet supplements. On his Instagram page, Jeremiah has posted numerous pics promoting the company, including one recent video with his castmate Gus, who is also an athlete for the brand. "In a couple days our website for FitStrong will be ready for orders," he captioned the video. "I'm very happy to be apart of this team/family and apart of this lifestyle. I AM FITSTRONG."
The whole Kortni and Jeremiah romance is still speculative, so you'll have to tune into the show to watch and see what happens. Until then, it's nice to see Jeremiah moving forward with his new ventures with his best friends by his side.
New episodes of Floribama Shore air Mondays at 10 p.m. ET on MTV.