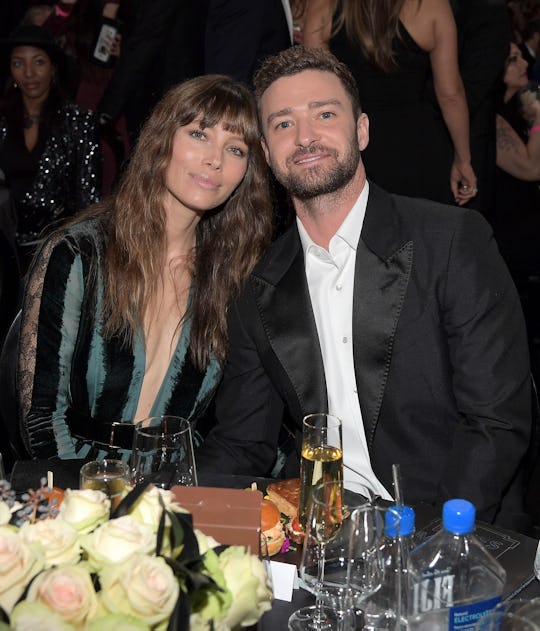 Charley Gallay/Getty Images Entertainment/Getty Images
Here's Why You Can Totally Count On Jessica Biel Being At The 2018 Super Bowl
Super Bowl LII is finally here! Every American is ready for a night of buffalo wings and cheering their hearts out for either the Philadelphia Eagles or the New England Patriots. Well... some people will be doing that. Let's be honest, most people are anxiously waiting for those iconic Super Bowl commercials in between plays and passes and, of course, Justin Timberlake's highly anticipated halftime performance. Millions have RSVP'd "yes" for Sunday's festivities, but is Timberlake's other half, Jessica Biel, actually at the Super Bowl cheering for him backstage or will she also be tuning in from the comfort of her sofa with a bowl of chicken wings on her lap?
Biel and Timberlake seem to be somewhat of a package deal when it comes to special events. Whether it's hitting the red carpet at the Golden Globes as a pair or dancing together in Timberlake's latest music video for his new album Man of the Woods, these two clearly have each other's backs. And the Super Bowl is definitely one of those bigger days, so it would only make sense that The Sinner star would be with her husband of roughly six years at U.S. Bank Stadium in Minneapolis, Minnesota Sunday.
In fact, Biel already started cheering for Timberlake in regards to his upcoming Super Bowl performance when she penned a heartfelt birthday message to him on Instagram last week. "I love you, you hot dad.. I'm here, right by your side, OG fan girl #1. Happy birthday, my beloved. Now go crush it this weekend at SB LII," she captioned a photo of the adorable couple on Jan. 31.
See what she wrote there? "I'm here, right by your side," and "Now go crush it this weekend at SB LII," sure sounds like Biel wouldn't miss Timberlake's Super Bowl performance for the world. What's more, Biel was born in Ely, Minnesota — although she was raised in Boulder, Colorado — so perhaps a trip to the Midwest could serve more than one purpose. You never know, right?
Biel's attendance was pretty much confirmed, as Entertainment Weekly reported, when she and the 37-year-old "Can't Stop The Feeling" singer were spotted together sharing a smooch at Prince's estate, Paisley Park, in Minnesota on Thursday night. Also, as local newspaper The Pioneer Press recently reported, Biel was seen on Jan. 31 at a "cozy French restaurant in downtown St. Paul" with a party of eight people, including Timberlake, of course, as it was his birthday.
On Sunday, just before kickoff, Biel posted a sweet Polaroid shot of her and Timberlake, with the hashtag, "#superbowllii." She wrote, "No funny business today in the back of the bus en route to the Super Bowl We focused! Game time baby!"
So, yep, Biel is indeed at the 2018 Super Bowl and is clearly Timberlake's No. 1 fan as he prepares to take the stage.
Timberlake has been hard at work rehearsing for the Super Bowl LII halftime show, and it looks as if Biel has been right there with him in chilly Minneapolis as he prepares for the big night.
Neither Biel nor Timberlake have hinted at whether their 2-year-old son, Silas Randall, will also be in attendance Sunday, but he'd certainly be an adorable addition to our 2018 Super Bowl memories. Of course, many still fondly remember when Timberlake last performed during the Super Bowl halftime show 14 years ago with Janet Jackson. For those in the dark, at Super Bowl XXXVIII, during the song "Rock Your Body," Timberlake pulled the front of Jackson's leather jumpsuit, which then revealed "her jewel-covered nipple to tens of millions of viewers," according to Newsweek.
The incident — aptly known as "Nipplegate" — dominated headlines at the time and is still stirring up conversation today, mostly because Jackson was punished by CBS, the network that aired the game in 2004, and Timberlake, 22 years old at the time, "mostly escaped blame," as Newsweek reported.
This year's act, however, is expected to be more family-friendly, with Timberlake rumored to pay tribute to the late music icon Prince, a Minnesota native who died in 2016, in the "form of a life-sized hologram," as CBS News reported.
There's a lot to look forward to on Sunday. Aside from copious amounts of dip and of course some football, Timberlake's halftime performance is definitely up there. And hopefully Biel will give viewers a behind-the-scenes look at her hubby's performance.