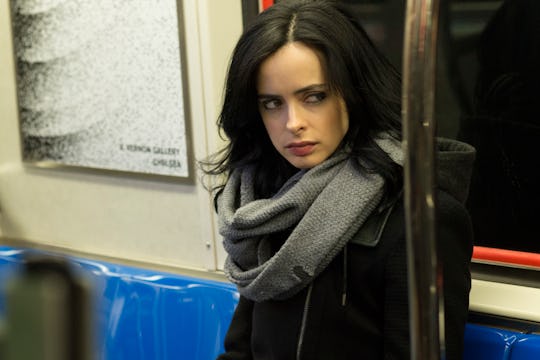 Myles Aronowitz/Netflix
'Iron Fist' Will Have A 'Jessica Jones' Crossover
The Marvel universe is huge and now that Netflix has brought many of its characters to life in series such as Jessica Jones and Luke Cage, even comic book rookies are starting to get the gist of things. The most recent series, Iron Fist, played by Finn Jones, is the story of a young man, also known as Danny Rand, who has super awesome powers that center around his iron fist. Later this year, he'll team up on Netflix's The Defenders, which for non-comic book fans, is basically another superhero group like The Avengers, but they're all based in New York City. This begs the question: is Jessica Jones in Iron Fist? She's part of The Defenders crew, which also include Iron Fist, Matt Murdock, and Luke Cage, so it's only natural that there may be some crossover, since we've already seen some in the Netflix series based on the other members.
But alas Krysten Ritter fans: it doesn't look like Jones will be showing up in Iron Fist, at least judging by the official cast and crew list. Although if she has a random cameo or walk-on, it's possible Netflix is keeping that under wraps for fans who are waiting to see how the streaming site pulls off the whole "worlds colliding"-thing that comic book series so often do. But don't despair — she's definitely in The Defenders, out later this year (it would be a travesty if she wasn't).
One star who's showed up in all the Netflix Marvel series so far is Rosario Dawson, who plays Claire Temple, nurse to all superheroes. Fans just love Dawson, so this is good news, even if her presence doesn't always mean great things for our heroes.
Jeri-Hogarth, played by Carrie-Ann Moss, is also in Iron Fist, as she plays the Marvel crew's legal counsel — and she was in Jessica Jones and Daredevil. Another crossover character in Iron Fist is Madame Gao (played by Wai Ching Ho), a heroin dealer with possible ties to The Hand from Daredevil, and in the upcoming The Defenders. So, there's no Jessica Jones, but these guys can't always be stuck together, right?
Also, not to bring you back into the real world, but The Defenders (where she has to have a major role) is still filming and she's also in a film coming out this summer called The Hero, with Laura Prepon and Nick Offerman, that might have gotten in the way with Iron Fist's film schedule.
You'll have to just wait for later this year to get your Jessica Jones fix. I personally Can. Not. Wait.