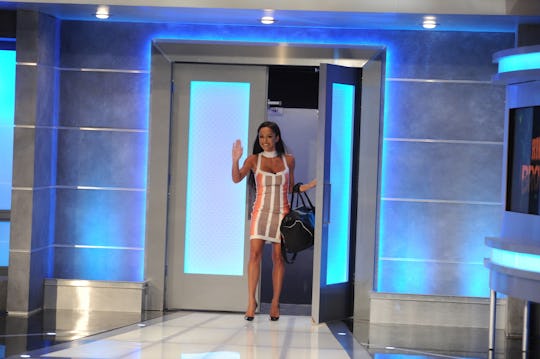 Johnny Vy/CBS
Jessica Is Still Fully Committed To The 'Big Brother 19' Outcome
Unfortunately, Jessica Graf was evicted from the Big Brother house last Thursday. Now that she's out of the house and not in jury, she's returned to regular society, which means she's back on social media and can watch TV again. So is Jessica watching Big Brother or is she totally over it now that she's out of the house? She's definitely rooting for her favorite remaining houseguest.
Ever since she's gotten back on Twitter, she's been letting the world know that she's not only watching but she's still supporting for her man, Cody. Inside the house, it was Jessica and Cody against the world and it appears nothing has changed. Jessica hasn't been afraid to throw shade at the other houseguests (particularly Raven) and she tends to retweet anything that supports herself, Cody, or the both of them. Not only is Jessica watching the show, it appears she's also watching the live feeds, like a legit Big Brother fan. "Cody talking to me on livefeeds never get old! [sic]," she tweeted earlier this week.
She also seems to be spearheading the #savecody hashtag on Twitter, though it won't do him any good this week. After a surprising veto competition, Matt ended up winning veto, but decided not to take himself off the block since he's the special nominee and Alex, the Head of Household this week, wouldn't be able to replace him with Cody.
Instead, Matt used the Power of Veto to take down Jason, thereby allowing Alex to put up Cody for a backdoor eviction. However, Cody may still have a very slim chance at survival.
Rather than take the Power of Veto like she told Alex she would, Elena instead chose to take the $5,000 during the Veto Competition, leaving Matt with the Power of Veto and forcing Alex to receive a punishment. This move infuriated Alex and confused the other houseguests who knew there was a plan in place to not screw each other over. Now, Elena, who was already on thin ice with a lot of the houseguests, has a big target on her back. Still, it seems doubtful that target is big enough to distract the houseguests from their main goal of getting Cody out.
Viewers won't have to wait much longer to see who will be leaving the Big Brother house this week. In fact, fans will actually get to see two houseguests leave the house this week as it's Double Eviction night! If the houseguests play their cards right, they may actually be able to get both Cody and Elena out in one fell swoop. Let's see how this plays out.