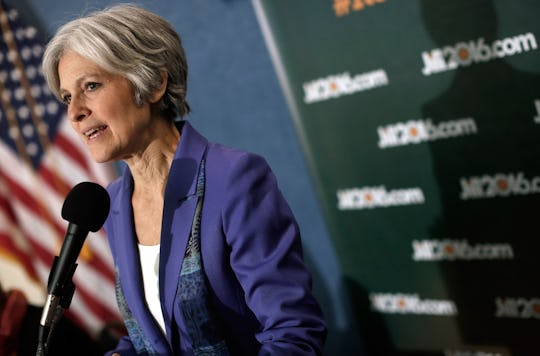 Win McNamee/Getty Images News/Getty Images
Is Jill Stein Attending The Second Presidential Debate? She Was Escorted From The First
Despite mobilizing supporters to challenge the Commission on Presidential Debates, Green Party candidate Dr. Jill Stein still hasn't secured a spot at any of 2016's three presidential debates. Though she and Libertarian candidate Gary Johnson are still running, only Democratic nominee Hillary Clinton and Republican nominee Donald Trump polled high enough to participate. As the second debate approaches with no invitation to join likely, is Jill Stein attending the second presidential debate? She hasn't made her plans clear yet, but past experience suggests her campaign will find a way to keep her name in the news even as Clinton and Trump face off in person.
Update: Meleiza Figueroa, Press Director for the Stein/Baraka 2016 Campaign, said that Stein will be in St. Louis, but she'll "be broadcasting her debate responses in real time" from a location separate from the official presidential debate. The live stream will allow Stein to be an active participant in the debate, answering the same questions Clinton and Trump get and responding to their answers. The broadcast will be available to watch on all campaign social media accounts, but it will also be carried by Free Speech TV and Link TV via Democracy Now! The live stream is scheduled to begin at approximately 9 p.m. Eastern Time. Figueroa said she expects significant viewership for the event:
Using our social media platforms alone, Jill's live debate response on the night of the first presidential debate at Hofstra generated over 19.2 million impressions on social media - the largest audience for a third-party candidate since Ross Perot was included in the televised debates in 1992. With this expanded broadcast reach we expect to surpass the level of viewership and online engagement we achieved that night.
The following is the campaign's official comment on the Commission on Presidential Debates and the current rules for inclusion in each debate:
The Stein/Baraka campaign agrees with 76% of US voters who, according to a USA Today poll, favor four candidates being included in the debate. They disagree with the Democratic and Republican controlled commission which is ensuring their parties do not have to debate other candidates.
The nation's focus will be on St. Louis, Missouri, this Sunday when Clinton and Trump settle in for a 90-minute town hall debate at 9 p.m. Eastern Time; according to Vox, CNN anchor Anderson Cooper and ABC anchor Martha Raddatz will moderate, weaving their own questions in alongside those asked by undecided voters in the audience. The format gives candidates an opportunity to engage with voters one-on-one while reaching millions across the country.
Every debate has the potential to significantly sway public opinion, but not every presidential candidate is permitted to participate. Representatives of Stein's campaign did not immediately respond to Romper's request for comment. Both Johnson and Stein are constitutionally eligible to participate and, Politico reported, they are on the ballot in enough states to make them competitive "to win a theoretical Electoral College majority." Back in September, the Commission on Presidential Debates announced that the Libertarian Party and Green Party candidates didn't meet a third criterion for participation: polling at 15 percent nationally. The commission stated that they would reevaluate the candidates prior to each debate, it appears that Johnson and Stein haven't achieved the polling results required to make it to the microphone in St. Louis.
It's unclear exactly where Stein will be on Sunday, but she is a vocal critic of the Commission on Presidential Debates. In a September op-ed for USA Today, Stein argued that any individual "who could win a majority of the electoral college should be" able to participate in the presidential debates, regardless of how they poll nationally. Her website includes resources to mobilize supporters to campaign for open debates, encouraging tactics from signing petitions to organizing non-violent demonstrations.
The Green Party is known for shaking up debate day. On Sept. 26, CNN reported that Stein still visited Hofstra University to do interviews prior to the start of the first presidential debate. Police officers escorted her from the location when she didn't have the credentials to participate in onsite press activity. A statement from a Nassau County Police Department spokesperson published by CNN clarified what happened:
She [Stein] was on the college campus, we asked to verify for proper credentials, she did not have them, and she was nicely escorted off the campus.
Stein's running mate, Ajamu Baraka, wasn't eligible to get a seat at the table for the vice presidential debate. Instead, with the help of Democracy Now!, he joined a debate live stream that allowed him to respond to Democratic vice presidential nominee Tim Kaine and Republican vice presidential nominee Mike Pence while answering the same questions asked of them. Stein did a similar live stream to coincide with the first debate.
Whether Stein will try to attend the second presidential debate is still unclear, but the Green Party is doing what they can to be sure their candidate's vision for the United States reaches as many voters as possible.