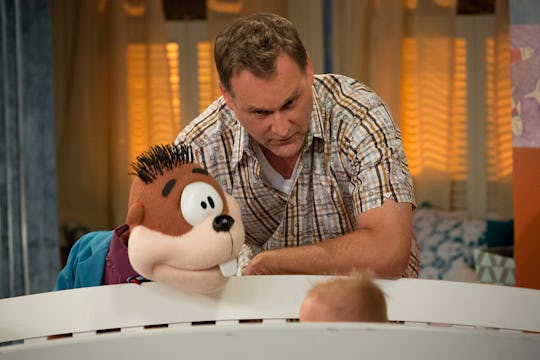 Michael Yarish/Netflix
Is Joey In 'Fuller House' Season 2? Dave Coulier Will Appear & Direct
Part of what made Full House the classic that it's been for the nearly-thirty years since it originally debuted was the chemistry between the three male leads. As the first season of the spin-off Fuller House proved, chemistry like that doesn't just vanish — in their recurring roles in the new series, John Stamos, Dave Coulier, and Bob Saget slipped easily back into their roles and familiar camaraderie. Stamos, Saget, and Lori Loughlin are all set for returns to the revival series for its second installment, but is Joey in Fuller House Season 2 as well?
The cast of Full House hasn't exactly been shy about sharing behind the scenes pics from the set of Season 2, so we've known for months that Coulier will be appearing as Joey in the new batch of episodes. If there was any doubt — or if there was a vague possibility that he was just hangin' around on set because he loves the cast so much — that was laid to rest when the new season trailer premiered. Along with all of the other major cast members, Joey was featured in the trailer, confirming that he's definitely set for at least one appearance in Season 2, if not more.
Viewers are also set for a major Joey-related development in Fuller House Season 2. Series creator Jeff Franklin told TVLine prior to the first season's premiere back in February that Joey had a wife and kids back home where he was living in Las Vegas. At that point, Franklin noted that we would "get to see something from Joey [and his family] hopefully in future seasons," though Season 2 hadn't yet been confirmed at that point. However, back in June, TVLine confirmed that Joey's wife Ginger Gladstone and their family would indeed be introduced in the second season's sixth episode — which is set to feature the rest of the recurring cast members who were series regulars on Full House as well — in the Fuller/Tanner/Gibbler family Thanksgiving celebration. Ginger is described as an "enthusiastic, upbeat, fun-loving magician" who is "a little clueless in the parenting department."
On top of appearing in at least the Thanksgiving episode, Coulier was also behind the camera this season — in fact, he directed the tenth episode of Fuller House Season 2 ("Nutcrackers," fittingly titled) in his directorial debut.
There's no doubt that meeting the Gladstones — and seeing the result of Coulier's first-ever directorial outing — will be a highlight of Fuller House Season 2. Now, the writers just need to figure out a way to get Mary-Kate and/or Ashley Olsen back as Michelle Tanner. Season 3, we're counting on it!