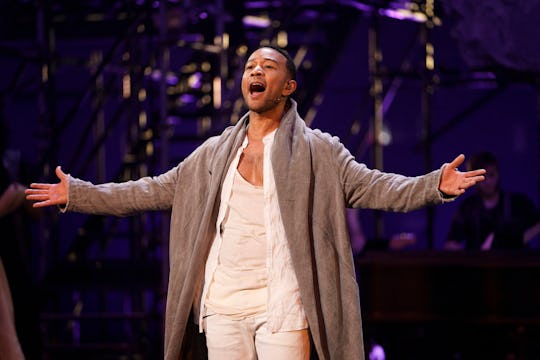 Peter Kramer/NBC
'Jesus Christ Superstar Live!' May Have You Wondering About John Legend's Religion
I don't know about you, but when I learned that John Legend was going to star as Jesus in NBC's live production of Jesus Christ Superstar, my first thought was that no one could be more perfect for the role. My second thought was 'Is John Legend Catholic?' Jesus Christ Superstar Live! aired on Easter Sunday, when religion was already on my mind, so I started wondering where Legend got his inspiration for playing the role. It turns out that Legend is not Catholic, but he did grow up in a very Christian household.
Jesus Christ Superstar was written by legendary musical composer Andrew Lloyd Webber, and tells the story of the last week of Jesus's life — this would be the week that gave birth to most Christian tradition. Though the show was initially decried as sacrilegious when it first premiered in 1970, it came to be embraced by religious and non-religious communities alike. NBC's live version takes the show's rock opera roots a step further, setting the show in an ampitheater-like setting, and even incorporating the live audience into the action of the show. And it turns out that my instinct was right — from his first moment on stage, it became clear that Legend was a perfect Jesus.
In an interview with People, Legend talked a little bit about his very Christian upbringing, and how that has affected his life. Legend's mother was a choir director and his grandfather a pastor. This should be your first clue that Legend didn't grow up Catholic because Catholics have priests, not pastors, and priests are definitely not allowed to get married or have children. "The message I took from growing up in church was the idea of loving your neighbor, giving to others and treating people as you would want to be treated," he said about his upbringing. He also credits his early introduction to church choir with getting him started in his career. Indeed, when listening to Legend's music and incredibly soulful voice, it's easy to hear the gospel influences (even when he's singing about some not-so-PG things).
In an interview with NPR, Legend talked about playing Jesus, saying that it was too good of an opportunity to pass up. He also applauds NBC for casting a black man as Jesus. "I think we've gotten used to seeing Jesus look like he came from Oslo, when, you know, obviously he was born and raised in the Middle East and probably looked a lot closer to me," he said. He also told the outlet that the show's themes of peace and love appeal to people whether they're religious or not. He also said the show's humanization of Jesus is partly the key to its mass appeal.
I think that's what the really the secret of the success of the show. It portrays [Jesus] as having human emotion and doubt and regret and passion and love for Mary Magdalene and also a resentment toward his father that he has to do such a difficult thing as to give his life away.
It's true that it is bizarrely unusual to see anyone of color playing Jesus Christ and I'm glad that NBC cast Legend.
Legend isn't the only person with a Christian background in the show. Alice Cooper, the iconic rocker who plays King Herod, is a devout Christian, which you certainly wouldn't know to look at him. But as all the stars of the show have said, it doesn't take a religious person of any particular denomination to appreciate the beauty of the show. It's a story anybody can appreciate.
Check out Romper's new video series, Romper's Doula Diaries:
Watch full episodes of Romper's Doula Diaries on Facebook Watch.