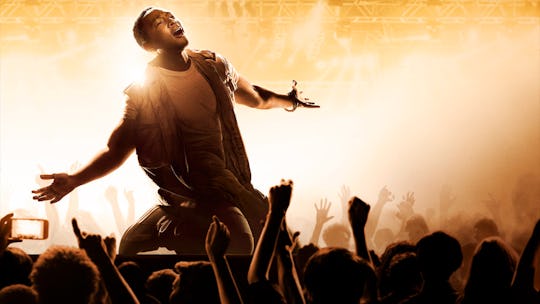 NBC
John Legend's Performance In 'Jesus Christ Superstar Live!' Will Blow You Away
The era of live TV musicals continues with NBC's production of Jesus Christ Superstar. Just like the many live musicals that came before it, this show will also be star-studded, featuring Grammy nominee Sara Bareilles as Mary Magdalene and Grammy-winner John Legend as Jesus himself. However, since the show will air live, some people will probably find themselves wondering: is John Legend really singing on Jesus Christ Superstar Live!.?
This should surprise no one, but of course Legend will be singing live. He's an award-winning singer and he definitely has the pipes and the range to take on this iconic role. If you don't believe me, just watch the video of his rehearsal for the show down below. Seriously, the notes he can hit are astounding and it'll be so great to see and hear him when the show actually airs live on Easter Sunday.
In case you're unfamiliar with the production, Jesus Christ Superstar is a rock opera that is loosely based on the last week of Jesus' life. Unlike some other musicals, this one is sung through with no spoken dialogue. The show was originally composed in 1970 by Andrew Lloyd Webber with lyrics written by lyricist Tim Rice, both of whom are signed on as executive producers for this new live show.
Since the production's first Broadway debut back in 1971, Jesus Christ Superstar has been redone and revived in a number of ways. Earning a number of Tony nominations for its first run as well as a few more nominations for its revivals in 2000 and 2012. The show was also adapted into two films, the first being released soon after the musical first hit Broadway in 1973, and then the second was released later in 2000. The second film won an International Emmy Award for Best Performing Arts Film in 2001.
Thus, the musical is widely acclaimed and with both Webber and Rice returning to work on this new production, there's no doubt that this version will be just as good, if not better than, the previous ones. Starring alongside Bareilles and Legend are Alice Cooper as King Herod and Tony winner Brandon Victor Dixon as Judas. Also in the cast are Tony nominee Ben Daniels as Pontius Pilate, Tony nominee Norm Lewis as Caiaphas, Broadway veteran Jason Tam as Peter, M. Butterfly star Jin Has as Annas, and Swedish rock star Erik Gronwall as Simon Zaelotes. As you can see, the cast of Jesus Christ Superstar Live! is incredibly talented and this will definitely be a show you won't want to miss even if you've already seen some iteration of the show before.
Dixon even revealed in a promo clip that Webber has reworked the show "for what's new and what will resonate with the people who are gonna see it now." So even if you have seen Jesus Christ Superstar before, it won't be an exact replica of prior productions. Plus, even if it was exactly the same, don't you kind want to see Legend playing Jesus? It's going to be amazing!
Basically, there are way too many reasons to watch Jesus Christ Superstar Live on Easter Sunday. So once you get home, be sure to change out of your Sunday best, throw on your pajamas, and get ready for a musical that's sure to be the answer to your prayers. (Sorry, I had to do it.) Trust me, you definitely won't want to miss this.
Jesus Christ Superstar Live! airs on Sunday, April 1 at 8 p.m. EST on NBC.
Check out Romper's new video series, Romper's Doula Diaries:
Watch full episodes of Romper's Doula Diaries on Facebook Watch.