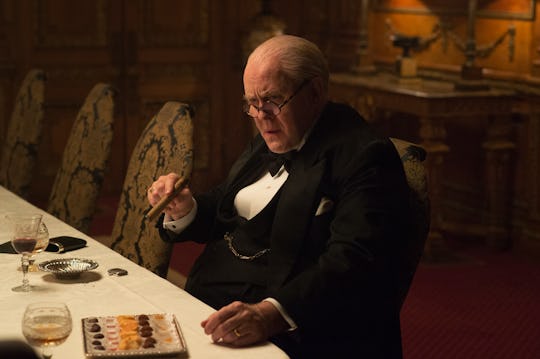 Alex Bailey/Netflix
Don't Expect To See Much Of John Lithgow In 'The Crown' Season 2
When The Crown first premiered on Netflix last year, it took the world by storm. And while Claire Foy played an incredible Queen Elizabeth II, John Lithgow's role as Prime Minister Sir Winston Churchill was so phenomenal it won him an Emmy. However, at the end of Season 1, Churchill stepped down as Prime Minister, which makes me wonder: is John Lithgow in The Crown Season 2?
Unfortunately, you will not see Lithgow in the new season, though he did appear in the teaser trailer for the second installment. While appearing on The Graham Norton Show last month to promote his new movie, Daddy's Home 2, he was asked if he would reprise his role as Winston Churchill. "No, and it's fine with me," he said. "They gave me a fantastic exit, and it wasn't a death scene. Churchill's end is extremely moving. A good actor knows a good exit."
Although the show must go on without him, Lithgow will certainly be missed in the second season. Foy even told Vulture that it was "awful" not having Lithgow on set for this season. "Me and Matt [Smith] did a Skype chat the other day and John was there on the end in LA," she recalled. "It was so amazing just to see his face! I just love and miss him so much." Even so, Foy praised her two new prime ministers — Jeremy Northan, who plays Anthony Eden, and Anton Lesser, who plays Harold Macmillan — and said she was a "very lucky girl" to be able to work with them all.
Lithgow also mentioned how much he loved being on the show while chatting with Graham Norton. "I was the only American in the cast and was completely surrounded by fantastic British actors and I was intimidated by playing such an iconic person," he said. "I thought I would have a target on my back...but in fact they were incredibly welcoming and made me feel genuinely more confident."
It's surprising to hear Lithgow was nervous about playing the role at all since he did it so well, but I'm glad he was chosen and it all worked out. I couldn't imagine anyone else playing Churchill now.
While fans mourn the absence of Lithgow on the show, they'll also have to get used to losing the majority, if not all, of the cast, for Seasons 3 and 4. It was recently announced that Golden Globe winner Olivia Colman will replace Foy as Elizabeth in the next two seasons. An unannounced older actor will also replace her husband, Prince Philip, in the next two seasons as well.
Because each season takes place during a decade of the Queen's life, the cast always knew there would be a switch up during the series and now it appears that time has come. This season will be the last with the original characters, but Foy is confident Coleman is more than capable of taking on the role and making it her own.
"I just can't wait to see what she does with it," Foy told Variety after news about the cast change broke. She also said she has no advice for her, but "would gladly talk to her for hours about anything." Smith, who currently plays Philip, also told The Guardian that while he'll miss getting to film in exotic locations, he's happy and ready to step down from the role and let someone else take the reigns.
Before you say goodbye to Foy and Smith, you can now watch them play husband and wife one last time in The Crown Season 2, which is now streaming on Netflix.
Check out Romper's new video series, Romper's Doula Diaries:
Watch full episodes of Romper's Doula Diaries on Facebook Watch.