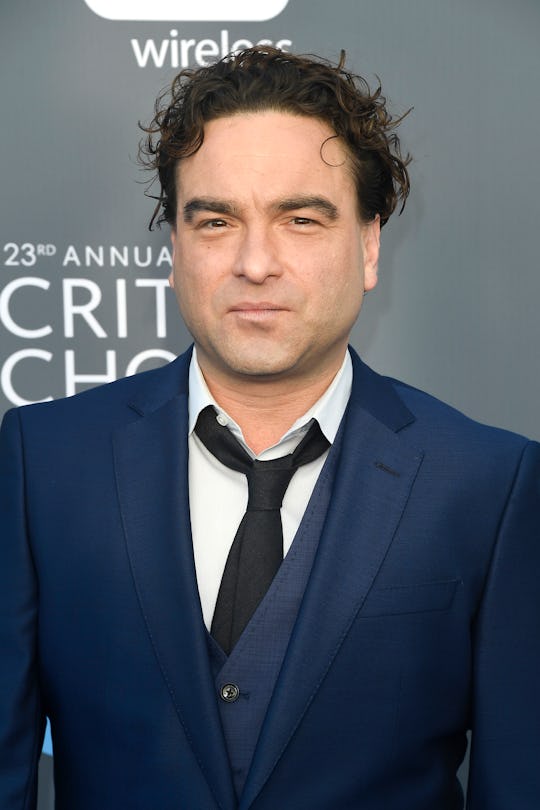 Frazer Harrison/Getty Images Entertainment/Getty Images
Johnny Galecki's Return To 'Roseanne' Will Be Well Worth The Wait
It seems like every decades-old show is getting a revival these days and one of the more successful iterations seems to be the new Roseanne, which brought back the beloved Conner family, including the original actors who played them. However, David was noticeably missing from the premiere, which has many people wondering: is Johnny Galecki in the Roseanne revival? As the father of Darlene's two kids, who are now an important part of the series, he's clearly still very closely tied to the family. So if you're worried he won't show up, don't be. It's going to happen — it's just a matter of when.
The first episode of the revival premiered with massive ratings, and saw the Conner family 20 years later, and no better off. The family is struggling financially and divided politically. Roseanne and Dan are Trump supporters while Roseanne's sister Jackie is a die-hard liberal. Darlene lost her job and so was forced to move back in with her parents along with her two kids, Harris and Mark. Roseanne is an Uber driver and Dan (not dead after all!) drywalls. Darlene's sister Becky is working as a waitress and has decided to become a surrogate for $50,000, which she says she needs. So basically the world is the same, but different. The family is still loud and blue-collar, but updated for 2018. So how will David fit into all of this?
It was initially uncertain whether Galecki, now famous for starring in The Big Bang Theory, would be available to reprise his role as David, Darlene's long-time boyfriend and eventual husband. Executive producer of the series, Whitney Cummings, announced that he would be coming back to the show on her Instagram story in a picture of a director's chair with Galecki's name on it. Later, Galecki himself posted a photo of the script on Instagram and a card with his name on it. In his caption he wrote, "Apart from being born, possibly the most surreal experience of my life." The caption also added a shout-out to The Big Bang Theory, thanking them for understanding the importance of revisiting roots and "loaning me out for a quick minute."
Galecki will appear in just one episode of the series, since he is already committed to The Big Bang Theory, however, showrunner Bruce Helford has already hinted at what caused David and Darlene to split during a recent interview with The Hollywood Reporter. He explained to the outlet:
Darlene is going through a lot because she's got kids and has a lot of guilt about the fact that her relationship didn't work out. She's a single mom and they have to struggle a little bit because of that. Johnny Galecki comes back as David for an episode and we deal that. That's a very emotional episode. Darlene and David have been separated for six years or so and he has only seen the kids a few times when they were living in Chicago. Darlene lost her job and is struggling and David comes back into that mix and raises a lot of emotional issues for all of them.
Roseanne has always been known for its accurate portrayal of the everyday lives of its characters, but this is a little too real for my liking.
At the Television Critics Association winter press tour, Galecki explained how it felt to return to the show after so many years. Hint: it was positive. "It was just one of the best weeks of my life. It was very, very emotional. It was kind of like what I would imagine going to your 20-year high school reunion was, but all the people are like still your heroes," he said, according to TVGuide. He also hinted that David didn't turn out to be the husband and father that fans might have hoped he would become. But there's hope he could return again.
At the TCA, he revealed that he'd be open to doing more episodes. "If they come back next year for another eight or nine I would love to do more than one next year," Variety reported him saying. So at least there's hope for the future. Maybe these two will work it out after all.
Check out Romper's new video series, Romper's Doula Diaries:
Watch full episodes of Romper's Doula Diaries on Facebook Watch.