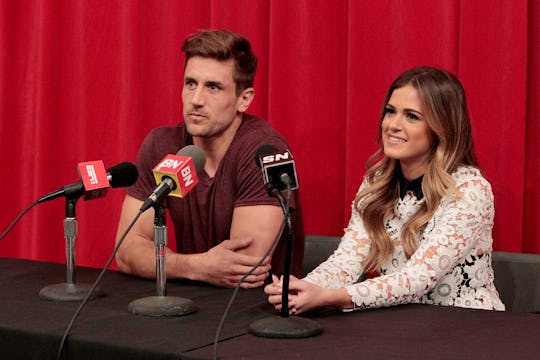 Is JoJo Engaged After 'The Bachelorette'? Promos Hint At Finale Proposal Drama
JoJo Fletcher's season of The Bachelorette is winding down, as we head into the final few episodes. JoJo has narrowed down her group of strapping young gentleman callers to the final six, having opted to keep both James Taylor and Alex around rather than eliminate either of them during the Week 5 Rose Ceremony in Buenos Aires. She clearly has strong feelings for several of the remaining contenders, given her increasing difficulty in sending them home, but whether she senses marriage potential in any of them remains to be seen. This begs the question of whether JoJo is engaged after The Bachelorette.
There are so many parallels between Kaitlyn Bristowe's Bachelorette season and JoJo's. Both Kaitlyn and JoJo clicked with one guy right off the bat (Shawn B. is Kaitlyn's case, and Jordan Rodgers in JoJo's). Both Kaitlyn and JoJo gave their first impression rose to that early frontrunner, who rode that first impression wave right on through 'til the end. If these similarities hold up, I'd expect to see JoJo accept a proposal from Jordan in the finale, just as Kaitlyn accepted Shawn's. And hey, it apparently worked out well for them – as of early July, Kaitlyn and Shawn are still together and brushing off the haters who wonder why they aren't married yet.
On the other hand, ABC's promo for JoJo's Bachelorette finale certainly hints that something dramatic will go down during JoJo's final rose ceremony – apparently, at least one of her final two will try to propose to her.
Obviously, we don't see the mystery proposer's face, but based on what JoJo says to him, I'd guess that it's either Robby or Jordan.
Both contestants have been plagued by persistent rumors regarding bad behavior with ex-girlfriends and accusations of participating in The Bachelorette for the wrong reasons. I would totally buy that either Robby or Jordan (but definitely Jordan) is in the final two and proposes to JoJo, only for her to turn him down because she just can't forgive his past transgressions.
Then again, if I know anything about the series, it's that the promos don't tell the full story and often purposely mislead us, editing together footage to hint at something that doesn't actually play out at all like we'd expect. Case in point: Meat Chad never actually punched a fellow contestant, despite tricky promo editing. Even if JoJo tearfully turns down the proposal of a man she loves in the finale, it doesn't necessarily rule out the fact that the other half of the final two may propose as well. Just because JoJo turns down one proposal doesn't mean there won't be another!
Regardless of any speculation, JoJo herself isn't saying a peep to confirm or deny her marital status. She appeared on Live with Kelly in May, where she dodged questions about how her season shook out in the end.
JoJo would only say that she was happy with how her season turned out and that she'd do it again in a heartbeat. Of course, host Kelly Ripa and guest host Fred Savage quite literally jumped on that, speculating that because she'd "do it again" she might not be engaged after all – because why do it all again if you're already engaged, right?