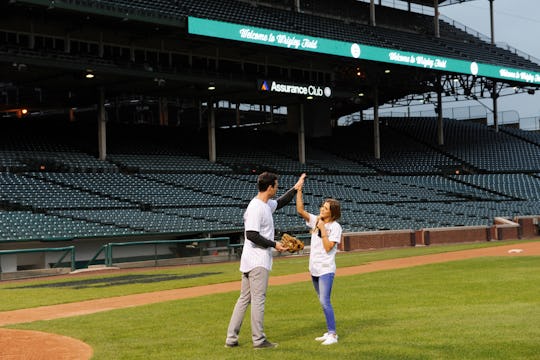 Jean Whiteside/Disney ABC Television Group/Getty Images
Is JoJo's Family Watching 'The Bachelor'? Judging By Their Comments, They're Keeping Up
Woah-kay, Bachelor, thank you for the preview that let us know that there will most definitely be some hometown hysteria coming up soon. Bachelor Ben Higgins has whittled 25 contestants down to just four in the race for "the one," and the next step in that very dramatic process is to visit the four girls' respective hometowns and meet their families. Meeting one partner's family is stressful enough, so I can only pity the person who has to meet four families while vying for their daughters' hearts on national television. And judging by the latest trailer, Ben's going to butt heads with at least one family, since it seems like JoJo Fletcher's brothers are fairly protective. Since it's bound to be an explosive episode, some are wondering — is JoJo's family is watching The Bachelor, and will they be watching these scenes go down?
Not to worry, because I did the sleuthing for you. While there hasn't been an official family statement from the Fletchers saying they definitely watch the show (because that would be weird), social media has led me to think that they're definitely tuning in for The Bachelor's newest episodes. JoJo's brothers are Martin and Ben Patton, and while the latter has remained fairly quiet on social media, Ben Patton (who had his own star moment in Ready for Love) has been tweeting up a Bachelor storm of support for his sister. He thought her unicorn-head exit from the limo was pretty rad and has tweeted about The Bachelor several times since she joined the show.
Another clue hinting that JoJo's family is all caught up on their Bachelor mania? A couple of comments from JoJo's brothers during the trailer for the couple's hometown visit. "My brother and I are protective," Ben Patton seems to tell the cameras. "She deserves better."
Martin then decides to get in on the commentary, adding, "Ben, you brainwash these girls way too much." (Which, hey, he wouldn't know if he weren't watching the episodes play out!) One cut later, the cameras capture him saying, "You need to take a step back."
It could just all be some clever editing on behalf of the Bachelor staff, who are adept at well-crafted, rating-raising trailer creation (and I mean that as a compliment). But you can also hear JoJo saying, "Now you're doing this? I was so excited about today. It's selfish!" Whether she's directing that at her meddling family or the bachelor himself is unclear.
We'll just have to wait and see what Monday brings. Meeting the family (ahem, families, in this case) is always stressful, so I'm honestly extending Ben and the ladies the best of luck.
The Bachelor airs on Mondays at 8pm ET on ABC.