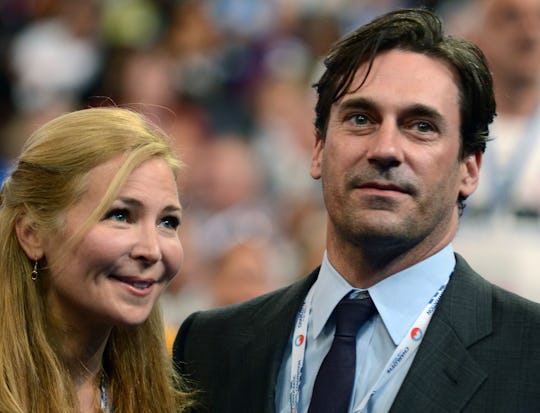 Robyn Beck/AFP/Getty Images
Is Jon Hamm Still With Jennifer Westfeldt? The Answer May Not Be So Clear
One of the best things about the Golden Globes isn't necessarily just seeing our favorite stars living it up on the red carpet with their boos — some will be enamored by Sunday night's fashion, after all. However, in terms of celeb couples, there's one big question looming overhead that still needs to be answered: Is Mad Men star Jon Hamm still with Jennifer Westfeldt? It seems the answer isn't so clear-cut.
Hamm and Westfeldt split after a lengthy relationship this past September, something the couple confirmed in a statement to Us Weekly that same month. "With great sadness, we have decided to separate, after 18 years of love and shared history," they wrote. "We will continue to be supportive of each other in every way possible moving forward." Earlier in the year, Us Weekly reported that Hamm had dismissed rumors of a break up due to his alcohol abuse. Sources that spoke with the New York Daily News claimed that the couple's September split had allegedly stemmed from Hamm not wanting kids.
That was something that was important to Westfeldt. While filming Friends With Kids with Hamm in 2012, the 45-year-old told The New York Times that the subject had been on her mind more than ever. "I've thought about this a lot lately," she said. "I never thought I'd be this age and not have kids. But my life has also gone in a million ways I never anticipated."
While Westfeldt may have expected to have kids by this point in her life, she told The Times that she was happy with the life she had, explaining,
I kept feeling like I'd wake up with absolute clarity, and I haven't. And [Jon and I] have a pretty great life together. The chance that we'll regret it doesn't seem like a compelling enough reason to do it. I may wake up tomorrow with that lighting bolt, and I'll have to scramble to make [a family] happen. You were wondering how we make it work. One way is we're really mobile. No one's had to give up an opportunity they really wanted.
But all may not be lost: As The Daily Mail reported last fall, Hamm and Westfeldt were spotted getting cozy at an event honoring the late director Mike Nichols in September, sparking rumors that they were back together. Speculation grew when Westfeldt was seen carrying luggage into Hamm's home on Nov. 10.
For now, it looks like we don't know for sure whether the couple have officially given their relationship a second chance — considering that it's their personal life, maybe that's okay. But perhaps if we're lucky, we'll see them make an appearance together at Sunday's Globes.
Images: Robyn Beck/AFP/Getty Images;Giphy