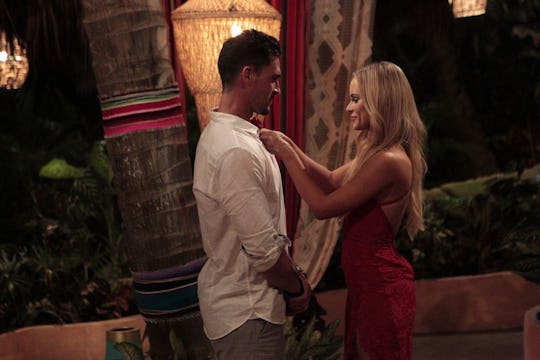 Rick Rowell/ABC
Is Josh Murray Single Now After 'Bachelor In Paradise'? He's Still Close With Amanda
Josh Murray found love – or something like it – almost instantly on Bachelor in Paradise. His first date with Amanda Stanton seemed to result in a serious connection and they've been making out all over the resort ever since; Josh and Amanda are basically attached at the lips. However, just because their initial chemistry was strong, it doesn't mean it won't burn out just as fast. Now that filming for the show has ended, are they still together? Is Josh Murray single now that Bachelor in Paradise is over?
If you're not a fan of spoilers, you may want to turn back now. Even if they aren't confirmed to be officially together, Josh and Amanda certainly seem to be on really good terms post-show. They've been popping up on each other's social media, defending each other publicly, and apparently have even been spotted spending some quality time together offscreen. All signs point to Josh and Amanda still being in a relationship. It's possible they're just really good friends but considering the intense chemistry, it seems more likely that they remained a couple after Paradise. So it looks like Evan Bass' attempt to interrupt their smooching won't pan out and Josh and Amanda are going strong.
Then again, maybe you'll have to wait for Amanda's tell-all book to get the real scoop.
Former Bachelorette and Josh's ex Andi Dorfman had some less than positive things to say about him in her book, so friends have apparently been trying to give Amanda a heads-up that Josh may not be who he seems to be. However, it doesn't look like any of it ended up creating real doubts within their relationship. There's plenty of evidence that they're still spending a lot of time with one another.
Aside from being seen together in public, Josh and Amanda have been supportive of each other on social media. Josh referred to their first date as the best first date of his life, and he also posted a picture of them kissing with a pretty telling caption: "It's okay if the rest of the world thinks I'm a douchebag, as long as she likes me. #SorryShesSoCuteIJustWannaEatHerFace." Which, ew. But this also speaks to their continued affection for one another: if Amanda's opinion is the only one Josh wants to hear, then it goes without saying she's still pretty important to him. There's also the face eating, but honestly the less said about that the better.