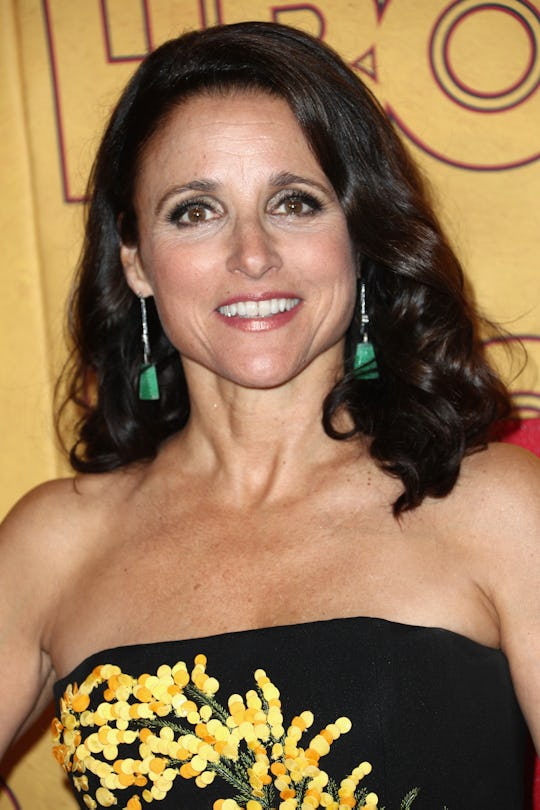 Frederick M. Brown/Getty Images Entertainment/Getty Images
Is Julia Louis Dreyfus Attending The Golden Globes?
When the 2018 Golden Globe Awards finally air Sunday night, it will serve not only as a celebration of some of the year's best films and television shows, but also as a glimpse of what might be to come as award season kicks into full gear. That's great news for the winners, of course, but for those who missed out on a nomination, well, not so much. Is Julia Louis-Dreyfus attending the Golden Globes? Although the Veep star was easily expected to earn a nod (according to TODAY, the actress has been nominated for her role on the show every year since 2013), both Louis-Dreyfus and the show itself were actually snubbed entirely.
Although every award show nomination announcement comes with some surprises, it does seem particularly surprising that Veep was shut-out: although the show itself has never actually won a Golden Globe, according to People, it's been nominated for the past two years. And while Louis-Dreyfus has yet to land a win for her role, she did win her sixth consecutive Emmy for Veep in September, making this year's nod seem like a no-brainer. In fact, when Vanity Fair issued its 2018 Golden Globes predictions in December, the mag called Veep "a sure thing," and joked that, by now, Louis-Dreyfus' name "just comes pre-printed on any nomination list" for the category.
Nomination snub aside though, it's of course entirely possible that the actress will still attend — although even if she had been nominated, her recent health struggles also mean that she may have still opted to skip it entirely. In Sept. 2017, the actress revealed on social media that she was battling breast cancer, according to People, and in November, she began her third round of chemotherapy. And it looks like her treatment remains ongoing: on Dec. 22, Louis-Dreyfus shared a snap to Instagram showing off her "awesome Xmas cocktail" of what looks to be a blood transfusion bag hung up to an IV pole.
From the looks of it though, Louis-Dreyfus is keeping her spirits up — and she definitely has a lot of support. On Twitter, the actress has been sharing funny (and super sweet) videos of her Veep costars trying to lift her spirits as she goes through treatment:
And on Dec. 27, she also shared a beautiful snap on Instagram of a Christmas Eve "mistletoe moment" with her husband of 30 years, actor and comedian Brad Hall.
Louis-Dreyfus also made sure that there was zero room for confusion as to how she felt about 2017: in her last Instgram snap of the year, the actress posted a clip of herself flipping off the camera, and wrote, "Goodbye 2017. Go f*ck yourself. #happynewyear."
Since the actress hasn't commented either way on how she's feeling — and really, it's no one else's business anyway — it's not clear whether she plans on attending the awards. On the one hand, attending the Golden Globes is probably at least kind of fun, even if you aren't nominated (although maybe it just gets boring when you're Julia Louis-Dreyfus and it's just another aspect of your job?). On the other hand, if she is feeling well enough for the event, I'm sure there are plenty of other ways she'd prefer to enjoy her time than at a ceremony that left her name off the nomination list for the first time in six years.
The good news at least, for anyone who had their heart set on seeing Louis-Dreyfus on the red carpet? She's still all over social media — and she's just as awesome as ever.
Check out Romper's new video series, Romper's Doula Diaries:
Watch full episodes of Romper's Doula Diaries on Facebook Watch.