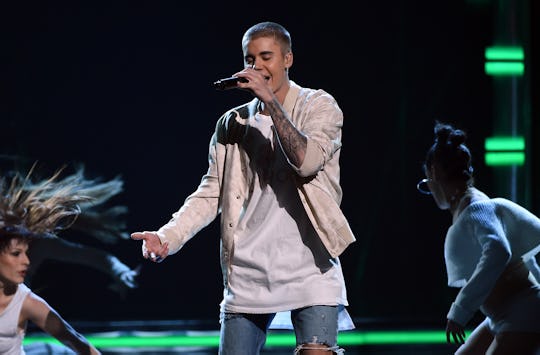 Kevin Winter/Getty Images Entertainment/Getty Images
Is Justin Bieber Going To The VMAs? He's Nominated For Three Awards
The VMAs, one of music's biggest nights is almost here, and as always, it's anyone's guess what will happen and who will make an appearance. One celeb you might be wondering about is Justin Bieber. After all the recent drama with his fans and ex-girlfriend, Selena Gomez, on Instagram, will Justin Bieber attend the VMAs this year? Despite the drama, it's very likely Bieber will make an appearance at the VMAs and maybe even bring his new girlfriend, Sofia Richie, with him.
Bieber is up for multiple awards this year including Video of the Year, Best Pop Video, and Breakthrough Long Form Video. Even though he's not performing, it would be odd for Bieber not to show up to the ceremony when he's nominated in three different categories. However, Bieber hasn't said much about the VMAs at all since he's been nominated. He didn't seem to celebrate the nominations at all, which is fine, but rare for the usually very active social media user. Overall, it looks as if Bieber is kind of indifferent about the VMAs, which is shocking because he had a big performance at the show last year that fans will probably never forget (in case you missed it, there were tears involved). Is it really possible the Biebs would skip out on the VMAs this year?
Beliebers would be disappointed if Bieber wasn't at the show to receive his award(s) if he wins. He's already broke millions of hearts this summer when he followed through with his threat to make his Instagram obsolete. Could this be another way for Bieber to stick it to his fans who were threatening his current girlfriend? It seems unlikely. What's more likely is Bieber will attend the award show with Richie right by his side. What better way to prove to his fans and the world that he's serious about being with her and won't let anyone, including his fans and Gomez, get in the way of their relationship?
We'll just have to tune into the VMAs on Sunday, August 28, to see if Bieber will actually make an appearance or not. Here's to hoping he actually goes. With Bieber in attendance, it's sure to be a fun night.