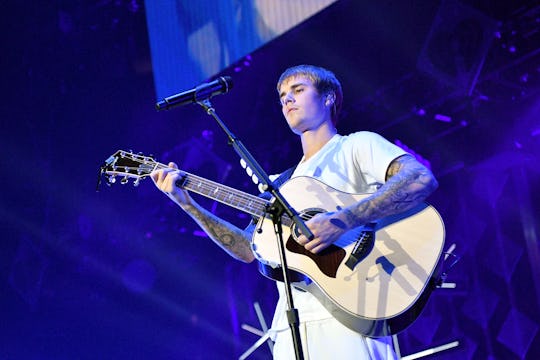 Mike Windle/Getty Images Entertainment/Getty Images
The Odds Of A Justin Bieber Performance At The Grammys Are Super Low & Here's Why
This year's list of Grammys performers is out of this world, but there seems to be one glaring omission. Some fans are wondering whether or not Justin Bieber is performing at the 2018 Grammys, since he's not on the official roster, so there could be hope of a surprise performance. Luis Fonsi and Daddy Yankee are scheduled to perform together, meaning they could bring Bieber on stage for a "Despacito" cameo, which is up for Best Pop Duo/Group Performance, Song of the Year, and Record of the Year.
Fortunately for anyone who can't bear to hear Bieber adorably mangle his Spanish one more time, it looks like Bieber will be sitting this year's Grammy Awards out. According to a report from TMZ, Bieber won't be at Madison Square Garden on Sunday night because he's busy working on a new album and needs all the focus he can get.
His last full length album, Purpose, was released in 2015, so it's about time for some new music. In 2016, he released some Instagram videos that had snippets of music along with captions that hinted that he was recording, but that was literally back in January 2016. So hopefully something is in the works, because it's been far too long.
On Instagram, Bieber's been posting throwback pics of himself out and about and somewhere on a gorgeous tropical island with his mom, Pattie Malette. It looks like they're having fun, but according to the Daily Mail, she broke her foot, so he might also be busy tending to her, too. But he's missed almost every music awards show this year, including the American Music Awards and the MTV VMAs, despite the fact that "Despacito" essentially took over the radio this year. He just doesn't seem to be into reaping the rewards.
However, he has been occupied with work, so don't just assume that he's slacking. He did an international tour for Purpose and kicked off the North American leg (his first ever stadium tour in the U.S.) in late summer, so he's been on the road, too. Bieber seems really focused on living his best life these days and has been largely out of the spotlight. In an appearance on the Ellen DeGeneres show last year, he said he felt "strong" and as healthy as ever. He was also blissfully single.
"I'm not dating anybody. Single. I'm not really looking either," he told the daytime talkshow host. He added that he wasn't into trying an online dating approach, either. So it's really all about traveling, his mom, and recording music.
That's not to say it won't be a bummer for fans that he won't be at the show on Sunday night. He won one Grammy award in 2015, when "Where Are U Now" took home the Best Dance Recording Award. He's been nominated for nine more awards, the first time in 2010 for Best New Artist and Best Pop Vocal Album for My World 2.0.
That year, he performed the song on stage with Usher and Jaden Smith, which is just a reminder that time moves so fast. I mean, just look at how young he was back then...
Aside from taking over the stage, Bieber's last Grammy appearance in 2016 was also memorable because he brought his little brother, Jaxon, who was possibly the cutest thing on the red carpet that year. It was that year that he also told GQ he was focused on making amends for some of the very public mistakes he's made in the past. He said in an interview, "Everyone, when they start growing up, realizes, 'Man, I did some dumb sh*t when I was younger.' It's not just me.… If I could go back, I wouldn't really change much. I think it's all my journey. That stuff made me who I am."
So maybe taking things easy in the studio, traveling, and staying far away from red carpets is the best thing for the singer these days. Sorry, Beliebers. But hey, there's always next year!
Check out Romper's new video series, Romper's Doula Diaries:
Watch full episodes of Romper's Doula Diaries on Facebook Watch.