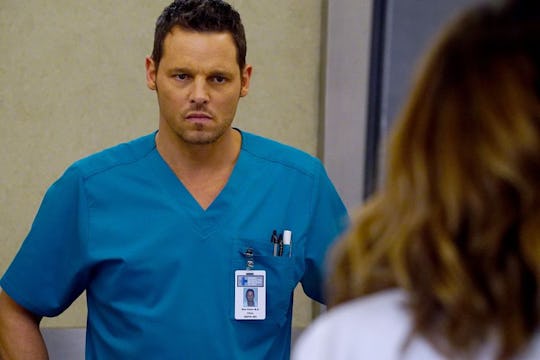 Richard Cartwright/ABC
Is Justin Chambers Leaving 'Grey's Anatomy'? Fans Aren't Ready To Say Goodbye
The winter finale of Grey's Anatomy left fans wondering what will happen to Alex Alex Karev? Viewers have watched this character go from being a sexist tough guy to a kind-hearted pediatrics surgeon that just wants to get married and have kids. However, at the end of Season 12 Alex regressed backwards when he beat up DeLuca after believing he and Jo were getting intimate together in the apartment Jo and Alex shared. Since then, things have been up and down for Alex and fans don't know what will happen next. But in light of recent developments, fans worry Justin Chambers may be leaving Grey's Anatomy for good.
Throughout the first half of Season 13, Alex suffered the repercussions of his assault on DeLuca. When he went to court, the judge decided to charge Alex with a felony instead of the misdemeanor Alex's lawyer thought he would get. After that, Bailey took Alex off of surgery completely and sent him down to the clinic to work there until his trial was resolved. While in the clinic, Alex had to deal with a boss that clearly did not like him and tried to help people, some of whom did not want to be helped. Still after a while Alex started doing really great work in the clinic and he was making the most of a bad situation. However, as his court case got closer and closer, Alex became more and more pessimistic about the outcome.
But then, after speaking to Jo and learning about her abusive husband in the winter finale, Alex decided to take the plea deal with his lawyer so that Jo wouldn't have to testify in court. And as sweet as the gesture is, this would mean he'd go to prison for two years. However, after listening to Meredith's voicemail, pleading with him not to take the deal, the finale ended with a cliffhanger, leaving fans to wonder what Alex will decide to do.
Neither Chambers nor Grey's Anatomy creator Shonda Rhimes have said anything about Chambers' future on the show, but they could be staying quiet so what happens next on the show isn't spoiled. If Alex leaves, Meredith will be the only member left of the original five (Meredith, Alex, George, Izzie, and Cristina), something Meredith mentioned to Alex. Hopefully he doesn't end up taking the deal and somehow manages to win his court case so that fans don't have to say bye to Chambers for good.
Unfortunately, fans will have to wait until January to know for sure exactly what Alex decides to do.