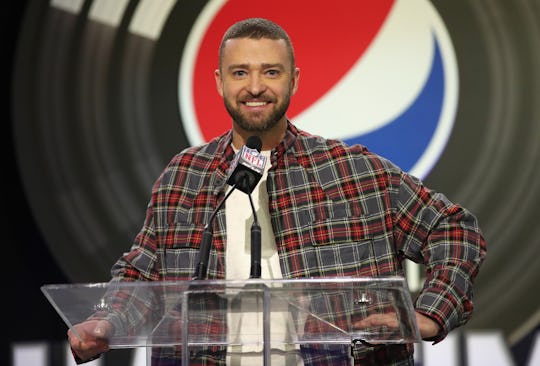 Christopher Polk/Getty Images Entertainment/Getty Images
Here's What *Could* Happen During Justin Timberlake's 2018 Super Bowl Halftime Performance
Justin Timberlake is going to perform at the 2018 Super Bowl halftime show, in his first return to the event since his infamous appearance with Janet Jackson in 2004. Performing at the halftime show for what is arguably the biggest sporting event of the year is a lot of pressure, and some fans are curious whether Justin Timberlake will be lip syncing at the Super Bowl during his live set, or will he really do the whole thing live. He's definitely performed for real at shows in the past, but performers have opted to either sing live or lip sync during the Super Bowl halftime show in the past, so that's no indication of whether he will do so during this particular performance.
In a behind-the-scenes video about Timberlake preparing for the Super Bowl show, he didn't really sing during any of the rehearsal shots shown, and mostly stuck to going through dance moves. So that wasn't helpful in determining whether he's been practicing as if he will be singing live at the event. However, Pink will be singing the national anthem for the game, and people are pretty sure she will do her performance live, according to CNN.
Remember, she didn't lip sync when she performed her stunning aerial act while singing "Glitter in the Air" upside down at the 2010 Grammy Awards, the outlet noted. So Timberlake might follow suit and also opt to not lip sync during his performance at the same event.
But of course, performing the national anthem, while definitely an honor, is not the same as doing a 13-minute long, action-packed concert in the middle of the Super Bowl game. Timberlake is clearly a skilled artist, but even he might choose to forgo singing live in order to have more control over the proceedings.
Different singers have opted to do different things when they've performed at past Super Bowl games. For instance, Whitney Houston did a pre-recorded version of the "Star-Spangled Banner" in 1991, according to Mic. Jennifer Hudson was also once convinced not to sing live by a producer on the same song, VH1 reported.
When the Red Hot Chili Peppers performed at the Super Bowl halftime show with Bruno Mars in 2014, the bass, drums, and guitar were pre-recorded, bassist Flea confirmed in a statement, according to radio station The New Alt 105.3. However, lead singer Anthony Kiedis supposedly sang live. Other singers, like Katy Perry and Beyoncé, have claimed that at least some of their performances when they sang during Super Bowl halftime events were live, according to Mic.
Timberlake has absolutely performed live during concerts and other performances in the past. He did so during a concert at The Forum in 2014, Uproxx reported. His live singing was even a little drowned out by other sounds during the performance, which isn't as much of an issue with pre-recorded vocals that you can adjust accordingly. And at the 2017 Oscars, Justin Timberlake opened the show with a performance of "Can't Stop the Feeling" where at least some of his singing seemed to be done live.
But it's still unclear whether Timberlake is singing live or lip syncing during Sunday night's Super Bowl halftime show. At a pre-game press conference on Thursday, he wouldn't reveal too much about his upcoming performance, though he did say "the odds are good" he will perform "Can't Stop the Feeling" again, CNN reported.
The truth is, Timberlake might be pretty nervous about everything going exactly as planned during his set, and lip syncing is one way to control at least one aspect of the performance. After all, the last time he sang at the Super Bowl, he accidentally ripped off too much of singer Janet Jackson's costume, leaving her breast exposed, Newsday reported. That led to the Federal Communications Commission's (FCC) decision to require TV networks to add a five-second delay during all live broadcasts, changing the way we watch live events on television in the United States forever.
So it remains to be seen whether Timberlake is going to lip sync at the Super Bowl halftime show or not. He has proven that he can sing live, but he's going to have a lot to worry about during the performance, so he might choose not to. Either way, it'll be an amazing performance and fans will just have to tune in for the show to see for themselves.
Check out Romper's new video series, Romper's Doula Diaries:
Watch full episodes of Romper's Doula Diaries on Facebook Watch.