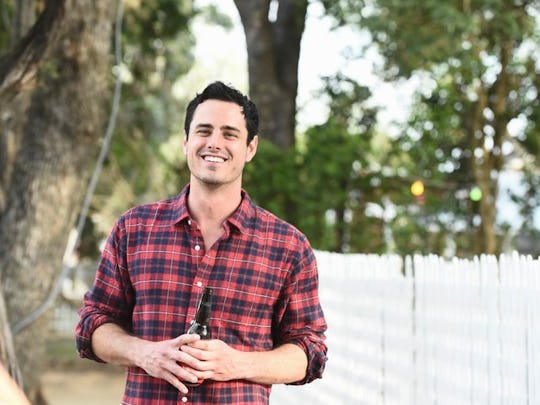 Felicia Graham/ABC
Is Kaitlyn Bristowe Watching Ben Higgins On 'The Bachelor'? The Two Still Seem Friendly
On Season 11 of The Bachlorette, Ben Higgins wasn't quite appealing enough for Kaitlyn Bristow to keep him around. But it looks like it all worked out for him: Higgins is now starring in his own season of The Bachelor. And now I know you're all wondering: Are the two exes still interested in what the other is doing? Is Kaitlyn watching Ben's season? Well.
During a telephone press conference back in August, when he was announced as the next Bachelor, Higgins described Bristowe as an "incredible woman" who he was "glad that I got to meet," reports Us Weekly. But does she feel the same way about him? Us also reports that Kaitlyn told them Ben was "the man" during a conversation at the Men Tell All taping. Hmm, not exactly the same thing as being called "incredible," but it'll do.
Kaitlyn ended up picking Shawn Booth as her finacé, and according to People, the couple have been living together since October at Booth's home in Nashville. Ben says that Shawn's "one of my best friends." So it's not hard to imagine the couple cuddled up on the couch, cheering Ben on as he searches for the woman of his dreams.
Making things even more interesting is the fact that one of the new contestants, Jami, is actually a friend of Kaitlyn! Imagine if Ben ends up picking her. That could make for some super-awkward dinner parties. If only the cameras could capture that.
So is Kaitlyn watching? She's at least invested, posting a message of good luck on Instagram and Twitter to the women meeting Ben during Monday's season premiere:
Also, it seems, based on Chris Harrison's tweet, that she will be appearing on Bachelor Live, the new post-show from ABC, so it's likely that she will have wanted to do her homework by seeing the premiere.
That said, the former Bachelorette has yet to live tweet anything during the episode. Perhaps she's watching from a different time zone? Because, hey, if we can't wait to watch the season premiere of The Bachelor, how should Kaitlyn be any different?
Image: Felicia Graham/ABC