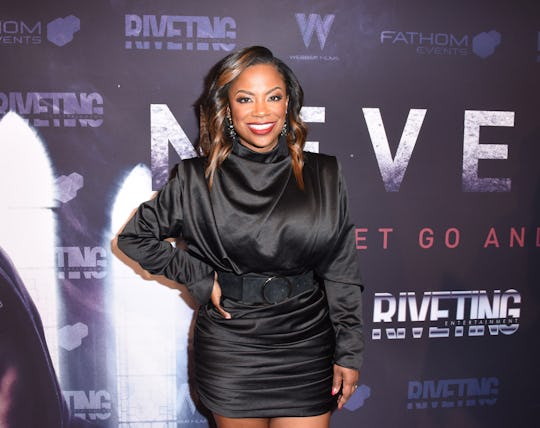 Vivien Killilea/Getty Images Entertainment/Getty Images
Kandi Burruss Looks Like She's Ready To Welcome Another Little One To Her Fam
The Real Housewives of Atlanta has proven itself to be very good luck for women trying to get pregnant, with Eva Marceille in labor during last season's reunion show filming, Kenya Moore revealing the extremely early stages of her pregnancy at that same reunion show, and Porsha Williams set to reveal her pregnancy later this season. With such a virulent strain of baby fever afflicting the Atlanta Housewives, fans may be wondering: is Kandi Burruss pregnant now? Early on in Season 11, she discusses the possibility of another baby with her family.
Over dinner with Ace, their daughters Riley and Kaela, and part of the Kandi Koated team, Kandi and Todd shared that they still have two more fertilized embryos left at their fertility clinic. Kandi admitted that she wouldn't feel right about "leaving them behind," personally, and wondered if the family was up for another baby. Riley was an adamant no, but it looks like she got vetoed on that front. In an interview with Us Weekly earlier this month, Kandi revealed that she and Todd were in the process of planning another pregnancy via surrogate.
"We did find someone, and right now we are in the process — you know it hasn't been done — but we're in the process," she said, adding that she's found the experience to be a little isolating.
"Like, I don't have anybody who can tell me [about it]," continued Kandi. "When we were going through the IVF process, I did have a couple of friends who had done it, so, you know, I could talk to them, but this is a situation where I don't have anybody I can talk to."
This news comes on the heels of an Essence interview last month, in which Kandi shut down pregnancy rumors that had been swirling after this season's trailer showed her getting grilled by Married to Medicine's Dr. Jackie Walters.
"We're definitely trying to figure out ways to grow our family," she told the magazine. "I know a lot of people thought that meant that I was pregnant. But I'm not pregnant. Let's be clear. I saw that floating around the internet."
Added Kandi, "Unfortunately, it's not happening. So obviously we're just going to be talking about what that means for our family."
Kandi is far from the first Atlanta Housewife to struggle with fertility — Kenya's baby was also conceived via IVF. But it looks like Kandi is the only Housewife who has ever tried pursuing surrogacy, which leaves her in a unique position amongst her fellow castmates. Hopefully, she finds some support along the way this season while fans send positive vibes for another big reveal come reunion show time. The Real Housewives of Atlanta airs Sunday nights on Bravo.
Season 2 of Doula Diaries shares the stories of fearless doulas helping their clients take control of their births and make tough choices that feel right to them. Watch the first episode of the new season Monday, November 26th.