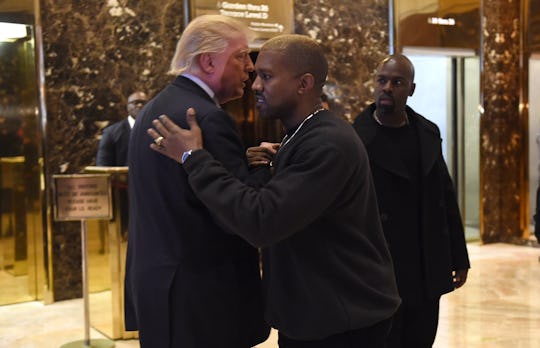 TIMOTHY A. CLARY/AFP/Getty Images
Kanye West Wasn't Invited To The Inauguration
Given the Trump team's reported difficulty lining up acts to perform on Inauguration Day, it seemed only natural that they might want to capitalize on the (rather strange) friendship between President-elect Donald Trump and rapper Kanye West by asking him to participate. West did, after all, make headlines in November after he told the crowd at a California concert that he would have voted for Trump if he had actually voted, and in December, he even met with Trump at Trump Tower, and posed for photos in the lobby with the POTUS-to-be. Is Kanye West at the inauguration? Despite their supposedly-close relationship, Presidential Inaugural Committee chair Tom Barrack told CNN that West wasn't even asked to perform — and the reason was surprisingly offensive, even for Trump.
When asked whether West would be making an appearance at the inauguration, Barrack explained that, even though West "considers himself a friend of the president-elect," and even though Trump's team thinks West is "a great guy," they didn't even bother asking him because, "it's not the venue." What does that mean exactly? Well, according to Barrack, Trump's inauguration performers are all "typically and traditionally American" — presumably like Jackie Evancho, Toby Keith, The Rockettes, The Mormon Tabernacle Choir, 3 Doors Down, and gospel singer Travis Greene, all of whom have been booked for inauguration-related performances, according to Us Weekly. Trump's transition team hasn't responded to Romper's request for comment.
The fact that Trump's team doesn't want West there isn't, in itself, entirely concerning. After all, West is nothing if not unpredictable (a trait he shares, actually, with the President-elect), and it makes sense that they'd be worried about what he might say or do when the entire world is watching. There's also the fact that, well, the average Trump supporter probably isn't also likely to be a Kanye West fan — and, let's be honest, if one of the biggest names in your entertainment lineup is the Mormon Tabernacle Choir, are you really going to also book the guy who wrote "Black Skinhead"?
But what is definitely concerning is the way Barrack answered the question. West may or may not be a lot of things, but what about him isn't "typically and traditionally American?" After all, as Teen Vogue aptly noted, West is a born-and-raised American citizen. He's also a pretty great example of the fabled American Dream: raised by a single mother, he dropped out of college and worked like crazy to make it in the music industry, despite being told by countless people behind the scenes that he wasn't cut out to be a successful rapper. Not to mention, of course, that West is far more famous than anyone else who has actually said yes to the Trump team — and that he represents a genre that is not only massively popular, but one that is inherently an incredibly American one.
Then there's the strange fact that the long list of celebs who have already been asked to perform (and who ultimately turned down the invitation) includes a number of people who aren't even American at all. According to The Independent, presidential transition team executive committee member Anthony Scaramucci claimed in November that Elton John would be performing at the inauguration. Although that was quickly denied by the singer's rep, it's worth noting, either way, that Elton John is British, not American. Even John himself found the notion pretty baffling, and told The Guardian,
I'm British. I've met Donald Trump, he was very nice to me, it's nothing personal, his political views are his own, mine are very different, I'm not a Republican in a million years. Why not ask Ted f***ing Nugent? Or one of those f***ing country stars? They'll do it for you.
Andrea Bocelli — an Italian tenor — was also reportedly considering an offer to perform, but ultimately pulled out due to backlash from fans, according to The Independent, and Celine Dion (who is Canadian) and Charlotte Church (who is Welsh) also turned down invites, according to Salon.
Given that Barrack could have simply just said that West wasn't performing at the inauguration — or literally anything other than him being not American enough — it's hard to see his comment as not being an intentional insinuation that the Trump team sees only certain people (read: white, conservative) as "traditionally American," even if they are literally not even actually American. And honestly, given how blatantly offensive that is, it's almost kind of perfect that Barrack made that comment about West specifically — because if anyone is going to have something amazing to say about it in response, it is almost certainly going to be him.