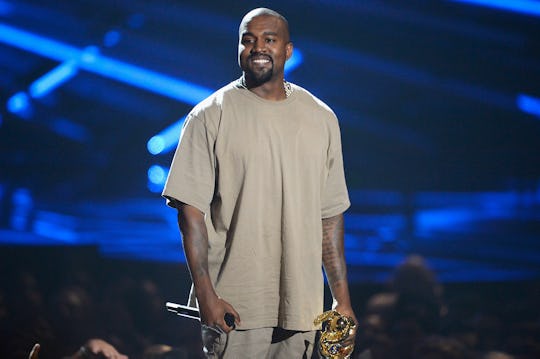 Kevork Djansezian/Getty Images Entertainment/Getty Images
Is Kanye West Performing At The 2016 VMAs? He'll Have Time To Do Whatever He Wants
Last year at the VMAs, Kanye West received the Video Vanguard Award and then proceeded to give us a 11 minute speech that experts are still trying to decode to this day. At this year's VMAs, West will be given — get this — four minutes to do whatever he'd like to do on the stage. (I'm sure there are some restrictions, right? Restrictions West will undoubtedly ignore.) So will Kanye West perform at the VMAs, or will he choose to use his four special minutes for something more — well, Kanye? He could perform a song off of The Life of Pablo, but come on, this is Kanye West we're talking about. When has he ever gone the safe route? Especially on the VMAs stage.
Obviously one of the most realistic options is for West to sing a song from his new album. Whether it is "Ultralight Beam" or "Famous", which has now infamously ignited an even bigger feud between West and Taylor Swift, any song from West's newest addition to his discography would be a welcomed addition to the show. But why stop there? Why think inside of the box. If it were any other performer, I'd say it's absolutely going to be a performance. But West is known to take the word performance to an extreme. Year after year West has brought something a little extra to the VMAs starting with the infamous moment where he interrupted Swift's acceptance speech in 2009. Last year it was Swift that presented the Video Vanguard Award to West, back when the two were on good terms. This year the two are on the outs again.
After West claimed he was responsible for Swift's fame in "Famous", Swift's rep claimed she had no idea about the song or that particular line. Since then West's wife, Kim Kardashian, jumped in to defend her husband with a series of Snapchat videos that showed Swift and West talking on the phone about the line in the song and Swift seemingly being okay with it. Naturally, Swift then responded, upset that West recorded a private conversation and asked to be "excluded from [the] narrative" from that point forward.
It'll be interesting to see if West uses this time to get the final say in this ongoing feud, especially since it seems Swift will not be attending the ceremony. Giving West the stage to do what he pleases could be giving him the perfect platform to speak his mind about the feud and reveal just how he really feels about Swift after all this time. Then again, maybe he'll just use this time to reiterate his plans to run for president in the future. Anything's possible when it comes to West and the VMAs. We'll just have to wait and see what he'll do.