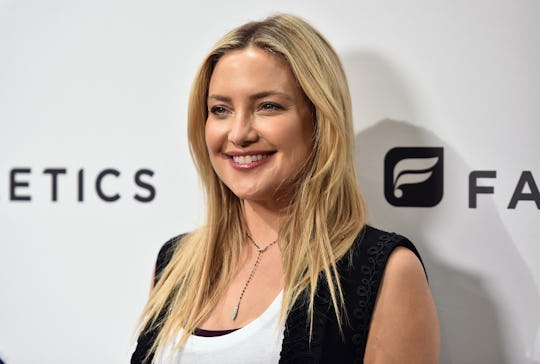 Alberto E. Rodriguez/Getty Images Entertainment/Getty Images
Oliver Hudson's Hilarious "Scoop" On Brad Pitt
Tabloid rumors are always swirling about celebrity couples getting together, breaking up, and making up. It must be pretty weird for family members of the super famous to walk into their local super market and see outrageous, often false, headlines about their loved lines plastered across magazines in the check-out aisle. This actually happened to actor Oliver Hudson, the brother of actress Kate Hudson, recently and he decided to do something about it. After seeing a Star magazine cover claiming Kate Hudson was dating Brad Pitt, Oliver decided the best way to put the kibosh on the rumor was to laugh it off.
The unsubstantiated celebrity rumor mill has recently paired Kate with the soon-to-be-divorced Pitt, even though the pair are almost certainly not dating. (Romper has reached out for comment on the alleged relationship, and is awaiting a response.) It seems Kate's big brother was totally over seeing tabloids make up stories about his sister's personal life, so he took to Instagram to make fun of the whole situation. On Friday, he posted a picture of Star Magazine with a headline reading "It's Getting Serious: Brad Moves In!" to his account, accompanied by a very long, very sarcastic message.
"Yeah and it's been hell!!" Oliver wrote about Pitt allegedly moving into his sister's home. "He's messy as sh--! He drinks out of the f--king carton and leaves the door open when he's taking a dump!! And this is when he's at MY house!!!"
Hudson then hilariously came up with a whole fake story about what it's really like to "live" with Pitt, saying,
He's already calling me brother and has driven a wedge between myself and my real brother Wyatt who now won't speak to me... he insists my kids call him uncle B and lost my youngest at the Santa Monica pier for 2 days... thank god for amber alert.
According to Oliver's post, Uncle B is getting pretty cozy with his mom, too, which might make Pitt's burgeoning imagined "romance" with Kate a little awkward. "My mom (Goldie Hawn) is overtly flirting with him!" He joked, going on to say that Hawn is "wearing these little nighties around the house now?! But ALL DAY!! Like at 3pm! And Pa (Kurt Russell) just keeps saying 'All right!! It's Brad Pitt!!'"
Humor appears to be the family policy for addressing ridiculous rumors. In a video posted by The Sun a few days ago, Hawn laughed off a paparazzi asking if she was ready to "have Brad as a son-in-law." The actress simply told him "you did make me laugh."
In Oliver's version of the great Pitt-Hudson romance, things aren't going that well. "It's time to move out man... I need my life back, dog," Oliver wrote, closing out his sarcastic Instagram post.
Is it too soon to say that everyone's excited for the next time Kate gets falsely paired up with another celebrity? Because it's a guarantee everyone will get a good laugh out of a second relationship-debunking Oliver Hudson post.