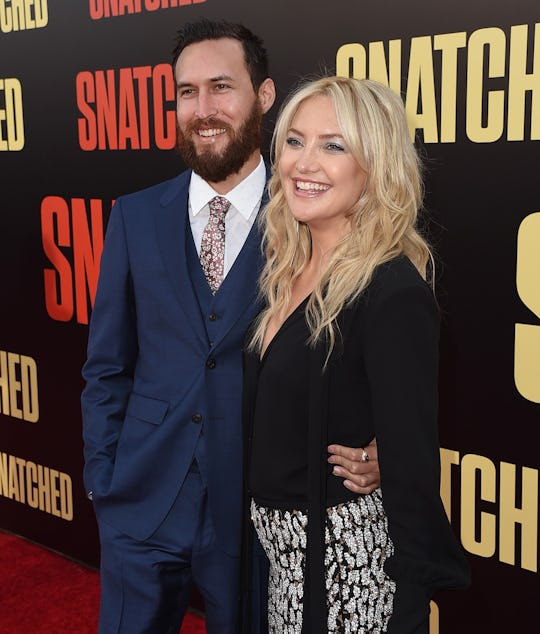 Kevin Winter/Getty Images Entertainment/Getty Images
Kate Hudson & Danny Fujikawa Will Welcome A Baby Girl Together Soon — But Are They Married?
Kate Hudson is expecting her third child very soon with her significant other, Danny Fujikawa. But unlike her famous exes, Hudson's fans might not be as familiar with Fujikawa and their relationship. But given how happy they seem together on social media and how sweetly the actress speaks about her beau, some fans may be wondering if Kate Hudson is married now.
Hudson is currently in the "home stretch" of her pregnancy, according to People, which means that she is getting ready for her daughter's arrival. Both she and Fujikawa are clearly overjoyed for the upcoming birth of their daughter (just look at her pregnancy announcement) — but that doesn't mean that they're headed down the aisle any time soon.
Hudson isn't married to anyone as of right now, according to People, but that hasn't stopped rumors from swirling around the couple's relationship status. This past January, four months before her big announcement, fans spotted Hudson with a ring on that finger, according to People, but sources denied that the couple was engaged.
But this doesn't mean that marriage isn't a possibility for Hudson and Fujikawa in the future — they just must be taking things one step at a time. And first, Hudson needs to give birth to their baby girl.
Hudson's due date is reportedly very soon, according to People, and could give birth within the upcoming weeks, according to Us Weekly. And with their daughter's due date looming ahead, a source told Us Weekly that the couple is beyond happy together. "Kate and Danny are madly in love," a source told Us Weekly. "Everyone loves him, and they could not be any happier that she found him."
Hudson and Fujikawa "found" each other in 2016, according to Us Weekly, but pretty much confirmed their relationship when they made their red carpet debut together in May 2017. After that, they became Instagram official, according to Us Weekly — which everyone knows is a super serious step in a relationship. That December, the couple celebrated the anniversary of their first date, with Hudson taking to Instagram to share how they met and first started dating.
As it turns out, Hudson and Fujikawa have known each other for 15 years, but it wasn't until December 2016 when he came back into her life. Hudson revealed that it took a few months for Fujikawa to make the first move, but she was so glad that he did. Because one year after the anniversary of their first the couple was already saying "I love you," according to People.
Needless to say, both of them are super excited for their newest addition to their family to arrive.
Hudson's brothers told People in April that they knew that Fujikawa wanted to have a girl, according to Women's Health, so he was super excited to find out their baby's sex. And Hudson herself feels the same exact way. In June, Hudson told People that she was looking forward to "having feminine energy in the house." Hudson is the mom to two sons from two previous relationships; 14-year-old Ryder and 6-year-old Bingham, according to People.
Just because Hudson isn't married yet doesn't mean that marriage is completely out of the picture for the couple. As previously stated, if they're happy with their relationship, then they shouldn't have to feel pressured to get married before their baby arrives, or ever.
And if they do get engaged or married any time soon, it is likely that they will tell their fans and followers at some point in time — just as they did with their baby news.