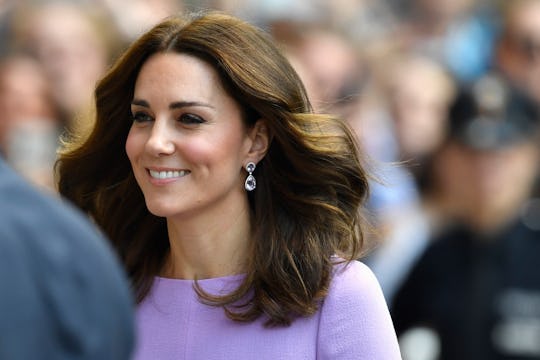 Alexander Koerner/Getty Images Entertainment/Getty Images
Yes, Kate Middleton Is A Feminist
As a female and public figure, Kate Middleton is often evaluated on her stylistic choices. Despite the Duchess of Cambridge's long history of charitable work, she often scores headlines and praise for her outfits, a fate her husband Prince William is spared from. This phenomenon is a shame for many reasons, but especially because Middleton is a champion of countless causes benefiting women's rights. If you're wondering if Kate Middleton is a feminist, it's safe to say her work speaks for itself.
If you Google "Kate Middleton," you'll find one too many articles discussing how she looks. Although there's nothing wrong with celebrating fashion (not to mention Middleton does have a killer style), viewing Middleton only through this lens is a disservice to her feminist work, especially where it concerns mental health and addiction issues. Although Middleton has never referred to herself as a "feminist" in public, she has contributed to feminist causes behind-the-scenes for years.
In 2015, Middleton paid a visit to an all-women's prison in England, according to The Daily Mail. During Middleton's 90-minute trip to HM Prison Send, she met with a handful of inmates struggling with alcohol, drug addiction, and mental health problems.
According to The Mail, a former inmate said of Middleton's visit:
When royals visit prisons you kind of think, it's for show, but you could see she was genuinely interested in addiction and mental health.
Middleton herself said of the event, according to Vanity Fair:
I was reminded today how addictions lie at the heart of so many social issues and how substance misuse can play such destructive role in vulnerable people's lives. I saw again today that a failure to intervene early in life to tackle mental health problems and other challenges can have profound consequences for people throughout their lives. I am grateful to the women I met for sharing their difficult personal stories with me. It is encouraging to learn how organisations like RAPt are offering specialist support to help people break the cycle of addiction and look forward to a positive and crime free life.
A year later in 2016, Middleton made a trip to another women's prison in England. At HMP Eastwood Park, Middleton discussed addiction and mental health concerns with the inmates, issues near and dear to heart. Following the visit to HMP Eastwood Park, Middleton stopped at the Nelson Trust Women's Centre. The centre offers support to women who have suffered emotional abuse and trauma, and also provides services to women suffering from addiction. According to E! Online, Middleton talked to the centre's staff members about "prison in-reach and social inclusion support, the sex worker outreach project, and rural outreach to young girls at risk."
It goes without saying that Middleton's commitment to women's mental health and wellbeing cements her position as a feminist. Mental health is 100 percent a feminist issue, and it's wonderful to see Middleton bringing so much awareness to this cause. Middleton's work is especially crucial when you consider "more than one quarter of women" in England "aged between 16 and 24 are suffering from symptoms of common mental health problems," according to The Telegraph. Not to mention women often lack the support to deal with these issues, and many are afraid to speak out because they don't want to be stigmatized. Middleton's work is giving a voice to these women, and that's incredibly powerful.
Middleton might not call herself a feminist in public, but it's more than clear she's committed to women's rights. One can only hope that as time goes on, the media will give her more credit for all the important feminist work she has done and continues to do to this day. Until then, keep fighting the good fight, Kate — we're all cheering you on.