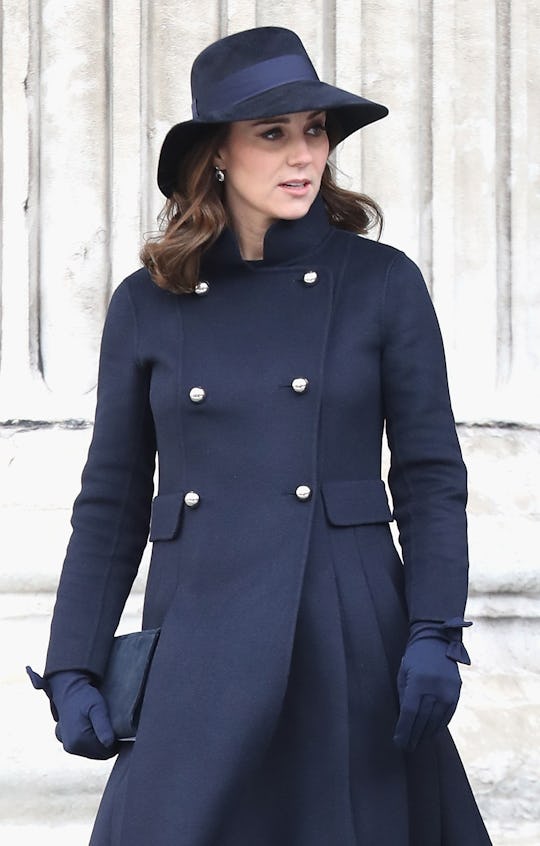 Chris Jackson/Getty Images News/Getty Images
Here's The Deal With Those Rumors That Kate Middleton Is Pregnant With Twins
Everyone's favorite royal is expecting and the world demands details. Along with the scant bit of verified information that has been released, there are also a number of rumors floating around about the coming member of the royal family. One such rumor is that Kate Middleton is having twins, but that one has indeed been debunked. No matter how much I would love to see a matching pair of royals waddling around behind her, Middleton seems to only have one bun in the oven this time.
Kensington Palace announced Middleton's pregnancy in September and fans have been on the edges of their seats waiting for updates ever since. Kensington Palace shared with the public in October that the Duchess is due in April of 2018, according to Elle U.K. Following that announcement, an anonymous source reportedly told Life & Style that the family not only knew the gender of the baby, but that they are expecting twins. The unnamed source went so far as to provide details about how Middleton was planning to dress her two little girls and where they would sleep.
Since then, Gossip Cop debunked this rumor, as well as the similar one started by an OK! Magazine story with another unnamed source, stating that there are not two babies.
These rumors of twins appear to be completely baseless, coming from sources that the gossip debunkers claim never existed. As a bit of evidence, Gossip Cop pointed to the official announcement that stated the royal couple was having a baby, not two, explaining:
As Kensington Palace pointed out to Gossip Cop then, the official statement announced, "The Duke and Duchess of Cambridge are delighted to confirm they are expecting a baby in April 2018." That's "a baby," as in just one. They are not going to revise it later to say, "Oh, yeah, it's actually two." The palace now reiterates to Gossip Cop that it did not "confirm" twins to OK! or any outlet.
Along with wishful thinking that twins are on the way, fans have also been speculating about what the new baby's name will be. Good Housekeeping has royal family names like Alice — the name of Queen Victoria's second daughter and Prince Philip's grandmother — Elizabeth, Victoria, and Alexandra in the running for a baby girl. Listed boy names include James, Albert, and Alfred. Any one of these choices would be in line with the tradition to choose names that honor past monarchs and other members of the royal family.
Another bit of confirmed information about the Duchess's pregnancy, albeit a less exciting one, involves the expectant mother's health. Once again, Middleton has reportedly been experiencing hyperemesis gravidarum, a severe type of morning sickness that was present in her first two pregnancies as well. It got so bad during her pregnancy with Prince George that she went to the hospital for treatment, according to TODAY. However, she is hopefully past the worst of it now that she is well into her second trimester.
Also, the expected date of the new baby's arrival may force the Duchess to miss a very special royal event. Prince Harry and his fiancée Megan Markle are set to wed on May 19, 2018, according to People. And while that could be a month or more after Middleton gives birth to her third child, the first six weeks postpartum can be particularly difficult.
As pretty of a picture as twin princesses would make, one royal baby on the way is certainly worth celebrating. I'm sure that Prince George and Princess Charlotte couldn't be more excited to meet their new sibling. Until then, avoid the temptation to read too much into rumors. I'd hate to see you get your hopes up for nothing.
Check out Romper's new video series, Romper's Doula Diaries:
Watch full episodes of Romper's Doula Diaries on Facebook Watch.