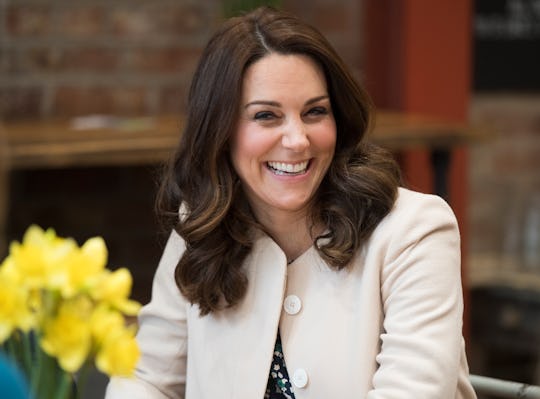 WPA Pool/Getty Images Entertainment/Getty Images
Is Kate Middleton In The Royal Wedding? The New Mom Of 3 Will Be Taking It Easy
Now that we're just days away from the marriage of Prince Harry and Meghan Markle, more details are starting to emerge. Those with a casual interest in the House of Windsor might be wondering if Kate Middleton is in the royal wedding, perhaps serving as a bridesmaid for her sister-in-law to be. While Kensington Palace has confirmed that the Duchess of Cambridge will be in attendance, she won't have a formal role, and instead will be only a guest at the wedding on May 19, according to the Daily Express.
Royal expert Richard Fitzwilliams told Express that it wouldn't be "appropriate" for the future Queen Consort to "play a subsidiary role," and also pointed out that nobody should overshadow the bride or groom. That logic is a little hard to wrap your head around once you take into account the fact that her husband, Prince William, will act as Harry's best man, and her eldest son, Prince George, is probably going to be a page boy. I mean, they're both future kings. But hey, I never claimed to be an expert at royal etiquette, and Fitzwilliams is, so I'll allow it. Last week, People reported that Markle won't have a maid of honor at all, so there's really nothing for Kate to do, anyway.
Americans might be wondering right now whether Kate could have just been a bridesmaid, rather than a maid of honor, but that's not how it's done in the United Kingdom. Traditionally, adults serve as best man and maid of honor, and the rest of the party is all children. The girls are called bridesmaids, not flower girls, and the boys are page boys (as George is thought to be). Princess Charlotte is also presumed to be in the wedding party; both children were also in their aunt Pippa Middleton's wedding to James Matthews last May, according to E! Online.
The royal wedding will be Kate's first official appearance since giving birth to Prince Louis on April 23, and the baby is not expected to attend, according to Hello magazine. He'll most likely be cared for by the family's nanny, Maria Borrallo, or perhaps by his grandmother, Carole Middleton, who's been helping out with the children since Louis came home from the hospital less than four weeks ago. His next official appearance probably won't be until his christening, according to People, which will most likely come in the late summer or early fall.
Considering that she'll be less than a month postpartum, and probably wrangling two small children, as she did during her sister's wedding, Kate is probably a little relieved that she doesn't have a more active role to play in the wedding, which is going to be quite the affair. After the ceremony and large daytime reception, there will be another, more intimate reception that evening hosted by Prince Charles, accrding to ABC News, with just the family and close friends. Perhaps Louis will grace that group with his presence, or maybe mom will take the whole day off. She certainly deserves it!
Although William is the only name that's been officially confirmed by Kensington Palace as being in the wedding party, they have confirmed that no adult women will be included, as Markle didn't want to have to choose among her tight-knit group of friends, who will all be on hand in an unofficial capacity. George and Charlotte are all but a shoo-in, and the Palace released a statement saying that "in the final week ahead of the wedding you can expect to hear more about the arrangements, including ... Details of the Bridesmaids and Page Boys." Can't wait to see how many cute little kids Kate will have to chase!