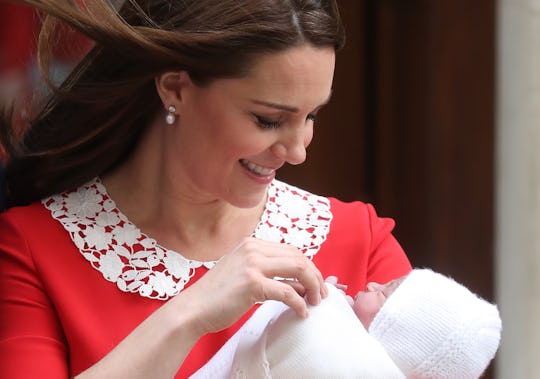 Chris Jackson/Getty Images Entertainment/Getty Images
Here's The Deal With Kate Middleton's Maternity Leave
When Prince William and Kate Middleton stepped outside of St. Mary's Hospital to introduce the newest royal baby, the world rejoiced as crowds gazed upon the newborn prince for the first time. A short while later, the duke and duchess reemerged — with their son in a car seat — to make their way back home to Kensington Palace. The media already knew this was the last time Middleton would make a public appearance for quite some time. With three young children to care for as she recovers from childbirth, it's safe to say the duchess will be laying low for a while. But is Kate Middleton taking maternity leave? Here's how that works for royals.
ABC News reported that Middleton is expected to return to her royal duties after six months, just as she did with her last pregnancy with Princess Charlotte. Although she won't be making official appearances as a working royal until October, that doesn't mean she'll be out of the public eye entirely. Town & Country reported that Middleton is anticipated to attend the wedding of Prince Harry and Meghan Markle on May 19, as well as Queen Elizabeth II's annual birthday parade — called Trooping the Colour — on June 9. And let's not forget Prince Louis' christening, which should take place within the next couple of months, based on the timing of the previous royal babies' christenings.
But first, let's rewind here, for a moment. Can you imagine how stressful it would be to attend a royal wedding with a 4-year-old, a 3-year-old, and a newborn in tow? *Shudders* Not to mention, Prince William will be serving as Prince Harry's best man, Today reported. So I doubt he'll be available to help wrangle children — leaving poor Middleton to fend for herself. Then again, Prince George and Princess Charlotte are used to attending royal events by now. So they're probably better behaved than most children their age. Let's hope the royal nanny will be on-hand for the upcoming nuptials.
As ET Online reported, Middleton wrapped up the last of her public events before her maternity leave on March 22 with a slew of engagements that celebrated Commonwealth — all while rocking some super-high heels, of course. (Seriously though, I'm impressed; I'd be tripping over myself without a bump throwing off my balance. Teach me your ways, Kate!) But I digress.
Anyway, the day was jam-packed with events: She and Prince William watched a wheelchair basketball game, met with athletes who aim to compete in the 2022 Commonwealth Games, participated in a Commonwealth quiz, and helped prepare for the Commonwealth Big Lunch.
After that spree of engagements, though, Middleton had a chance to take it easy for about a month leading up to Prince Lous' brith. Meanwhile, Prince William was still at it two days before welcoming his third child, as evident by the Kensington Palace Twitter account ...
And again just two days after Prince Louis' arrival.
What the Kensington Palace Twitter feed didn't show, however, was Prince William fighting to stay awake while attending the Anzac Day Service of Commemoration and Thanksgiving at Westminster Abbey, People reported. Poor fellow. You can tell he's desperately try to stay awake, but it's just not happening. Because newborns are exhausting.
So yes, Kate Middleton rightfully is on maternity leave for the next six months or so. But it doesn't look like Prince William is afforded the same opportunity for a solid chunk of time to bond with the newest royal baby — which is a shame, if you ask me. Couldn't the Duke of Cambridge skip a few royal appearances for a week or two, so he could at least have a chance to adjust to living on three-hour increments of sleep? I'm sure Prince Harry and Meghan Markle would be more than willing to fill in as needed.