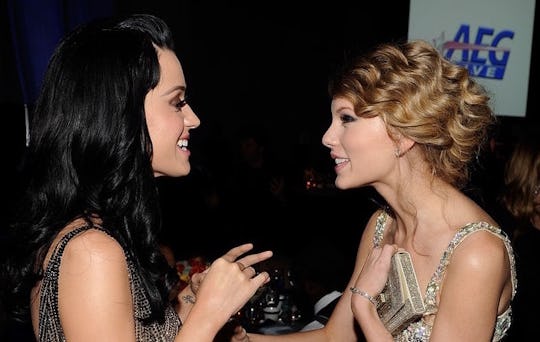 Larry Busacca/Getty Images Entertainment/Getty Images
There's Some Convincing *Proof* That Katy Perry Is In Taylor Swift's New Music Video
Listen, everyone loves a little drama, especially if it has nothing to actually do with them and they can watch from afar. But sometimes, the drama becomes unnecessary, and a reconciliation isn't too far off. So, now that it's been years since the initial fallout, people are wondering: is Katy Perry in Taylor Swift's "End Game" music video? There's actually a pretty substantial fan theory to back it up. Oh, and wouldn't it be nice to see two strong, successful women coming together and putting all of the drama behind them?
Well, there's no real way to substantiate these claims, but a lot of Swifties seem to think that Perry may appear in Swift's latest music video, as a way to show the world that they've worked things out. Swift's new video, for her latest single "End Game," is set to be released at midnight on Jan. 12, but several clues from the teaser trailer released Thursday morning seem to point to a possible compromise between the two powerhouses.
True, Swift and Perry have been involved in a reportedly epic fight since about 2014, and it would be amazing for them to find a way to work it out. I mean, don't get me wrong, I've been a die-hard Swiftie for over 10 years now, but even I am so over this feud.
But, back to the matter at hand. Why are some fans so convinced that Perry will appear in the "End Game" music video? Well, it's no secret that Swifties are masters at analyzing everything the 10-time Grammy winner does, and just from the short trailer they spotten several clues that could point to Perry appearing in the video.
Let's examine the evidence, shall we?
First Of All, There's Alleged Evidence That Perry Was On The Video Set
So, as you can see from the photo above, there appears to be someone who looks like Perry standing near someone who looks like Swift on something that looks like the set of Swift's new music video. Now, while this isn't exactly proof, E! News has also reported that Perry was in Miami at the same time as Swift was when filming the "End Game" music video.
Perry herself even (sort of) confirmed it, by posting an Instagram photo during the same time Swift was filming, and explaining that she was in Miami at the time.
This could all be mere coincidence, but isn't it more fun to imagine that Perry and Swift have made up and are about to drop the most iconic music video of the year? Here's some more *evidence.*
Perry Followed Swift On Twitter
Soon after rumors of Perry appearing in Swift's video began circulating, people started noticing that Perry was following Swift on Twitter. Now, this is tricky to verify. Some people are saying that Perry never stopped following Swift, and that could very well be true considering that on the web version of Twitter, Swift is on the bottom of Perry's following list. However, if you look at who Perry follows via the Twitter mobile app, you'll see Swift listed at the top, just under Ellen DeGeneres.
And, as the website SocialNetworking.com, notes, "If you've followed someone in the past few days, they will show up at the top of your list." So, if Perry did recently follow Swift on Twitter, then maybe it's because she wants to be ready to retweet or mention Swift as soon as the video drops.
Last But Not Least, It Would Just Be *Way* Too Perfect
Listen, the Swift and Perry feud is kind of ridiculous at this point. It all allegedly started when Perry stole backup dancers from Swift during her Red tour. After that, it all went to hell, and it really hasn't let up since. So, now, four years later, wouldn't it be amazing if Perry was featured in Swift's video as a backup dancer?
With lyrics like "I got some big enemies," and "I bury hatchets but I keep maps of where I put them," the "End Game" music video might just be the perfect opportunity for Swift and Perry to make up. Because the world could always use more girl power.
Check out Romper's new video series, Romper's Doula Diaries:
Watch full episodes of Romper's Doula Diaries on Facebook Watch.