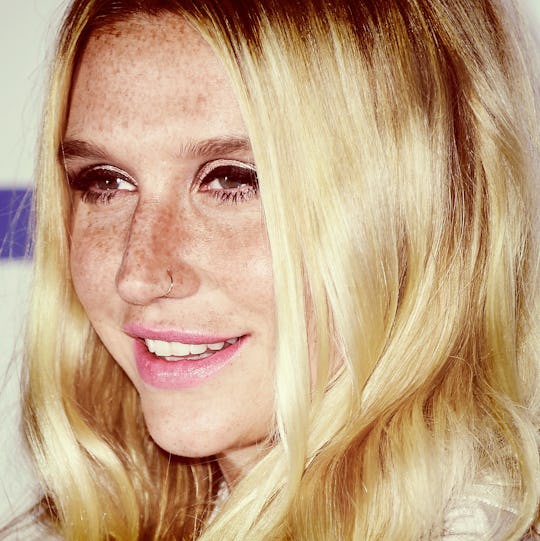 Frazer Harrison/Getty Images Entertainment/Getty Images
Is Kesha Working On New Music? The Singer Has Some Upcoming Gigs
Kesha fans received yet another round of disappointing news last week when a New York court threw out an appeal the singer had made in her case against her former manager, Lukasz "Dr. Luke" Gottwald." Kesha has accused Dr. Luke of sexual, physical, and emotional abuse spanning over a decade, and filed an injunction asking to be freed of her contract with him (Dr. Luke has denied the allegations). Kesha refuses to work with her alleged abuser, leaving fans wondering if they'll ever hear another new song from the artist. Is it possible that Kesha is working on new music? There are some promising clues out there.
Dr. Luke's representative, Linda Carbone, issued the following statement to Romper regarding Kesha's allegations:
Kesha's allegations against Dr. Luke are false, concocted to smear him publicly so that Kesha can get out of standard industry contracts that she entered into after she claims the alleged incident occurred. We have publicly insisted all along that Kesha should admit her lies and tell the truth. Everyone has a responsibility to learn the facts before condemning Dr. Luke in the media, particularly since Kesha swore under oath that her allegations are false. When the truth wins out in court, everyone will recognize that Kesha has victimized Dr. Luke and actual victims of sexual assault with her lies.
Still, the singer has posted a couple of pics to Instagram implying that she might have new music up her sleeve. "can't sleep. just up all day all night writing. my mind is possessed. I have so much to say right now," read one caption, posted in late February, while another, posted in late March, said that she'd "been writing all day." According to court papers filed by Kesha's attorney, Mark Geragos, due to her current Sony contract, the singer "cannot work with music producers, publishers, or record labels to release new music." But does that mean she can still write and perform new music, as long as she doesn't record it?
Although it's doubtful that fans will see a new album any time soon, Kesha does have some concert appearances coming up. She'll be at the PickAxe Summerfest in Bowling Green, Kentucky, on June 18, and the Dubuque County Fair in Dubuque, Iowa on July 30. Not quite as good as a stadium tour, sure, but it's something.
And on Tuesday, news dropped about a couple of more high-profile appearances. Pitchfork reported that Kesha will perform at Dylan Fest, a concert to celebrate Bob Dylan's 75th birthday, in May in Nashville, Tennessee. Though it's a pretty major show (Emmylou Harris, Boz Skeggs, and others will also be performing), it's a tribute concert, so new music is highly unlikely. Kesha will probably be reprising her cover of Dylan's "Don't Think Twice, It's All Right" for the show.
I've saved the best for last, though. Rumor has it – again, it's only a rumor at this point – that Kesha will attend the first weekend of Coachella, which begins on Friday, April 15. Entertainment Weekly reported the story, and, at this point, it's unclear whether she'll be attending as a fan or as a performer. She could be hopping up on stage to perform with another artist for a song or two (please let it be Guns N' Roses), she could have her own set lined up (possibly with new music), or she could just be attending because she's into halter tops, hair feathers, and portable toilets. Or, she might not even be going at all, but I'm inclined to believe the report, as EW is EW. At any rate, she'll definitely be performing her own material at a couple of shows this year, and it's looking pretty good that fans might be treated to something new, even if they'll only be able to appreciate it by way of a shaky iPhone video on YouTube.