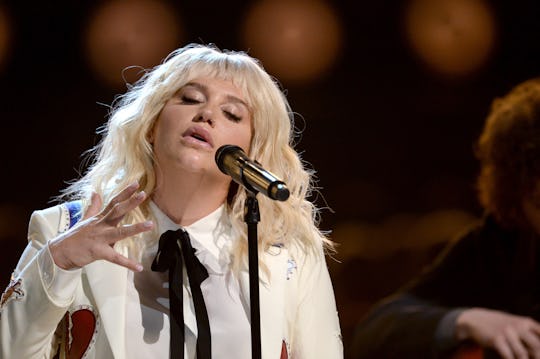 Kevin Winter/Getty Images Entertainment/Getty Images
Yes, You Can Stream Kesha's 'Rainbow' Over & Over, & Here's How
On Friday, Kesha released the highly anticipated album Rainbow to glowing critical reviews. It's the singer's first in five years, and it represents a dramatic shift from her previous calling card of party anthems like "Tik Tok" to soulful music infused with country, rock, and blues influences, as Vox's Grant Rindner noted. So, fans who have missed Kesha's voice since 2012's Warrior and those anxious to hear her work in light of her ongoing and highly publicized legal battle with producer Dr. Luke are surely happy to know that, yes, Kesha's Rainbow is on Spotify. And, if the critical acclaim it's already garnered is any indication, now is most definitely the time to pop in those earbuds and start streaming.
The 14 tracks on Rainbow almost never made it onto Spotify or any other streaming service, though, because for a while it was unclear whether the star would ever release new music again. That's because her career stalled as the result of a legal effort to leave her contract with her former producer, Lukasz "Dr. Luke" Gottwald, whom she accused of physical and emotional abuse. (Dr. Luke countersued for defamation, and no criminal charges were ever filed against him.) Although Kesha is still tethered to her contract, Rainbow debuted last week — and, in many ways, it's a record of what she's been through. Linda Carbone, a representative for Dr. Luke, told Romper at the time of Kesha's allegations:
Kesha's allegations against Dr. Luke are false, concocted to smear him publicly so that Kesha can get out of standard industry contracts that she entered into after she claims the alleged incident occurred. We have publicly insisted all along that Kesha should admit her lies and tell the truth. Everyone has a responsibility to learn the facts before condemning Dr. Luke in the media, particularly since Kesha swore under oath that her allegations are false. When the truth wins out in court, everyone will recognize that Kesha has victimized Dr. Luke and actual victims of sexual assault with her lies
Just days before the big release, Kesha appeared on Good Morning America, where she told Robin Roberts that she wrote every song on the album and that doing so "quite literally" saved her life — and that she wants the music to help other who may be able to relate to her experiences, too:
I hope you guys like it and I hope you can hear it, and I hope it helps people. ... It talks about me personally going through something very hard, lots of very hard things, making it through, not giving up, and finding empathy on the other side — which is incredibly hard sometimes.
Listeners do love the result. In her review, Rolling Stone's Brittany Spanos lauded Rainbow as both "resilient" and "genre-smashing," crowning Kesha herself a "freshly empowered, fearlessly feminist Top 40 rebel."
And in all aspects, the music does showcase a Kesha who's so strong, confident, and inspiring that she makes you want to stand up and cheer. "I'm proud of who I am," she belts on "Praying." "No more monsters, I can breathe again."
It's an emotional and energizing comeback from Kesha, who showed her fans that she can stand up to adversity like the champion she is.