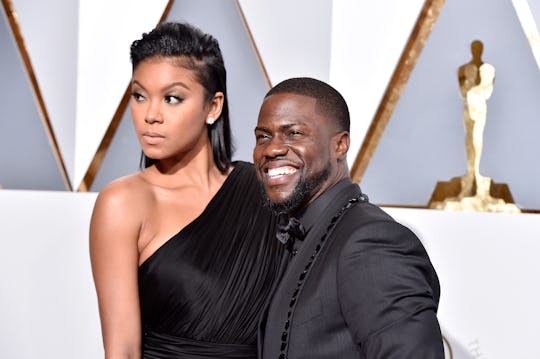 Kevork Djansezian/Getty Images Entertainment/Getty Images
Is Kevin Hart Single? The Comedian Is Off The Market
Kevin Hart is undeniably one of the funniest people in Hollywood and maybe even the world. The comedian has an impressive range of movies, comedy specials and hosting gigs under his belt and for a good reason — Hart knows how to make people laugh and they can't get enough of him. So, it only makes sense for Hart to be hosting the MTV Movie Awards on Sunday, April 10 where I'm sure some people out there will be tuning in just to watch Hart. While watching, people might start asking themselves questions. Questions like, is Kevin Hart single?
Unfortunately, Hart is off the market, which is truly saddening because there is nothing more attractive than a person who knows how to make me laugh. Hart is not just taken, he is actually engaged to his current fiancé. Yes, you heard me, fiancé.
Who is she? Hart's fiancé is Eniko Parrish, an aspiring model and actress from Baltimore, Maryland. Parrish and Hart started dating in 2012, after his split from his wife of seven years, Torrei Hart. In February 2014, Hart opened up to blogger Necole Bitchie about his relationship with Parrish. "...I found someone who put a smile on my face. I found somebody who genuinely made me happy. Which people don't realize is not an easy task."
The two got engaged in August 2014 and it sounds like wedding bells will soon be ringing in their near future. In September 2015, Hart revealed to Entertainment Tonight's Kevin Frazier the date of their wedding. "We're getting married August 8th, next year man," Hart said. "That's right ladies, I've got to put this chocolate in the freezer." Is that an open invitation to their wedding? If so, can I go? Hart also revealed that his seven-year-old son, Hendricks, will serve as his best man. Aw, so sweet. It seriously sounds like the best ticket in town.
In an interview on New York City's Power 105.1 radio station, Hart explained why his first marriage did not work out when he married his first wife at 22. "I wasn't ready to be married," Hart said. "I'm 36...I got a good woman. She's 30, about to be 31. What else is there? What else am I looking for? When you find something that stimulates you on a physical and emotional level, what else do you need?"
It sounds like Hart is incredibly happy about his relationship and I am happy for him — even if that means he is off the market. There is nothing better than being in love and finding happiness and I'm sure their upcoming wedding will be amazing. Until then, I'm going to watch the MTV Movie Awards to get my Kevin Hart fix.