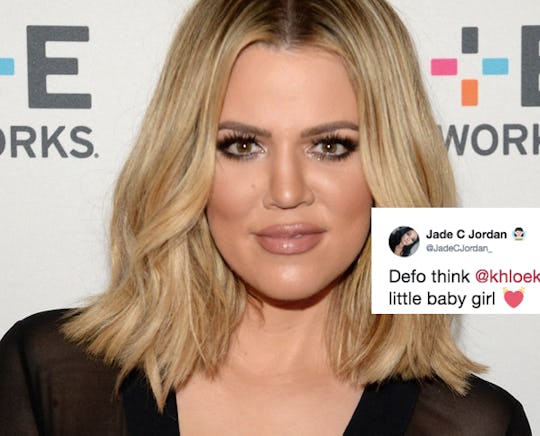 Chris Weeks/Getty Images Entertainment/Getty Images
Fans Are Convinced Khloé Kardashian Could Be In Labor, Thanks To This "Clue"
To many Kardashian fans, it feels like Khloé Kardashian has been pregnant for years now, which means that people are pouring over her social media like Sherlock Holmes for clues about when she might give birth. Now, some fans think that Khloé Kardashian could be in labor. The reason? She didn't attend the big Kardashian Easter party with the rest of her family.
Khloé announced that she was expecting her first child with boyfriend Tristan Thompson back in December, but she never announced an official due date. No surprise there. Recently, the members of the Kardashian clan have been all sorts of secretive about the various pregnancies and births happening in the reality TV family, from Kim Kardashian's recent third child via surrogate to Kylie Jenner's pregnancy with Stormi. But people are widely estimating that Khloé's baby could make her big entrance any day now, especially since Khloé tweeted on March 21 that she only had "a few weeks left where I have the excuse to eat like this lol."
Now, fans are noticing that she's been a little quiet on her social channels over the past few days, and that, even though she normally loves big holiday parties with the family, she skipped the epic Kardashian Easter bash in Calabasas.
Naturally, they're convinced that she's in full-on giving birth mode:
It is true that the normally prolific-on-social-media Khloé has been quieter than normal of late. On Easter, she only posted one picture, a selfie on Instagram in which she gave herself bunny ears using a filter that had been available the whole week before.
And it's also true that the Easter party looked freaking incredible, the kind of event that would be hard to miss if you had an invite. There was a 10-foot-tall Easter bunny made of flowers, a giant inflatable slide, and, most importantly, baby ducks, as seen in this video of Kim's Snapchat!
But none of that necessarily means that Khloé's already in labor. According to ELLE, Khloé is in Cleveland with Thompson, a basketball player for the Cleveland Cavaliers. She's simply doing some "nesting" in the home stretch of her pregnancy. A source told the magazine:
Khloé is in Cleveland and plans to stay there until the baby is born. She is too far along to fly back and forth. She is doing great and seems very happy every day. Her family is flying to Cleveland when it's baby time. Khloe especially wants Kris there for the birth.
Many women want to take a break from the craziness of their regular life as their delivery date looms. If I were nine months pregnant, I'd probably much rather hang out on the couch with my boyfriend than fly halfway across the country to go to a rowdy party with a bunch of exhausting children and relatives. After all, a newborn makes sleep pretty much impossible. Might as well stockpile some rest while you still can. And the same goes for social media, which can be exhausting in a completely different way.
Ultimately, there will be no way to tell with 100 percent accuracy when Khloé goes into labor until she announces the news herself. In the meantime, it's a safe bet that she's just hanging out and getting some rest right now. And really, the only people who need to know what's going on with Khloé's pregnancy at this exact moment are her and her family.
Check out Romper's new video series, Bearing The Motherload, where disagreeing parents from different sides of an issue sit down with a mediator and talk about how to support (and not judge) each other's parenting perspectives. New episodes air Mondays on Facebook.