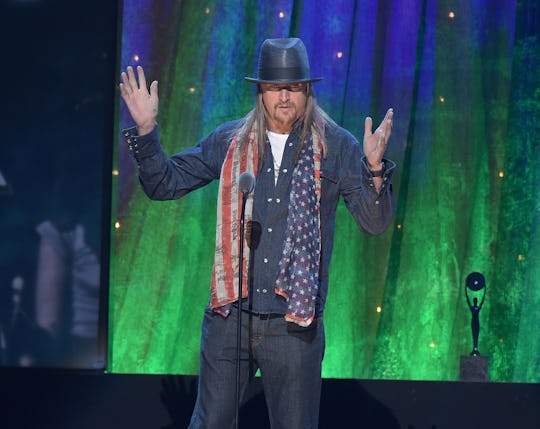 Theo Wargo/Getty Images Entertainment/Getty Images
No, Kid Rock Is Not Running For Office
Things must be getting a little rough over in Michigan if everyone is really this excited that Kid Rock is running for office. But is he even? Probably not, Twitter trends be damned, though it would be an interesting sight to behold. Things are already so out of control and surreal, that it would almost make sense for the pop star to have a seat in the Senate. Ba-wit-da-ba, baby, what's the worst that can happen?
Alas, Kid Rock's name was merely brought up at Michigan Republican Party convention last weekend as someone who could theoretically beat the current senator, Democrat Debbie Stabenow. But Kid Rock hasn't said anything about launching a campaign, so I wouldn't get your hopes up yet. Still, although there's no actual plan to have Kid Rock run, he is a pretty political dude.
During the 2016 election, he campaigned for Donald Trump by performing at the Republican National Convention and is currently selling "Make America Badass Again" hats for $20 a pop, along with shirts that say, "God, Guns, and Trump." (You seriously cannot make this stuff up.) In the past, he performed at a Mitt Romney rally in Michigan, so he's loyal to the Grand Old Party, though he describes himself as more of a Libertarian.
In reality though, Kid Rock could actually be a viable candidate to run for office, especially since celebrities taking over high profile political positions has been all the rage of late (hello, President Trump). Kid Rock was born in Romeo, Michigan and his real name is Rob Ritchie, so it's not like if he did run (and then get elected), Senate Majority Leader Mitch McConnell would have to call him Kid Rock (because, of all the crazy things going on in politics right now, that might be the final straw).
Michigan Republicans aren't the only ones thinking of celebrity candidates. Right after the huge loss to Republicans in November, filmmaker Michael Moore suggested that Democrats start thinking outside of the box for the midterm elections, and eventually the 2020 presidential race. Moore said, "Democrats would be better off if they ran Oprah or Tom Hanks or — why don't we run beloved people? I mean, we have so many of them. The Republicans do this."
He added, "They run Reagan and The Terminator and other people. Why don't we, why don't we run somebody that the American people love, that they are really drawn to and they're smart and have good politics and all that? Why don't Democrats do that?"
It's not a bad question, since celebrities seem to get people excited to turn out the vote — just check and see how long Kid Rock was trending today to get an idea of how intrigued people were by the concept. And since actual legislators aren't doing the greatest job these days anyway, maybe it's not the worst idea. (It is actually the worst idea ever, but that's where we are these days, I suppose.)