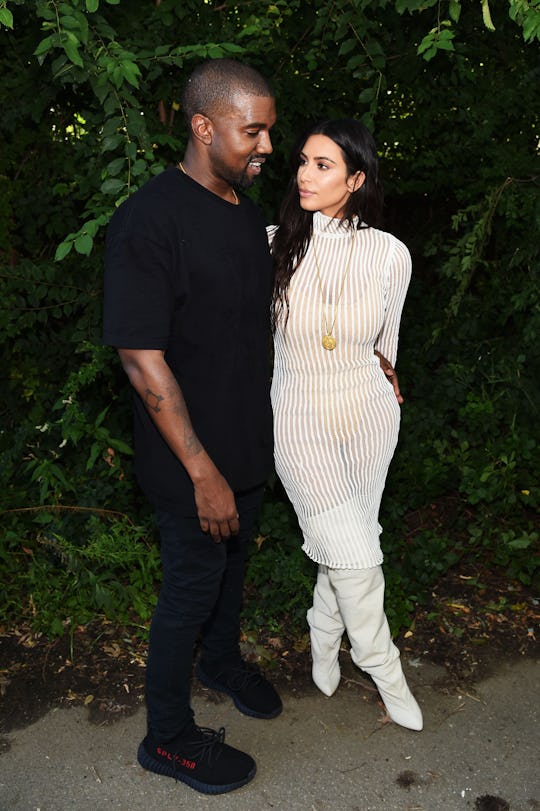 Jamie McCarthy/Getty Images Entertainment/Getty Images
Kanye West Says He's Moving To Chicago, But Is Kim Kardashian Going With Him?
When it comes to Kim Kardashian and Kanye West, there's a lot to keep track of. Famously from Chicago, West has taken to repping his home town more and more in recent months, giving fans some pause. With West seemingly feeling homesick, it leaves room for debate on whether his new family will join him back home and whether Kim Kardashian is moving to Chicago with him.
Kanye West is well known for hailing from Chicago. He's alluded to it multiple times in song lyrics, even going so far as to create an entire song just about Chicago. The hook of "Homecoming" is like a weird prediction into West today, with Chris Martin singing, "Do you think about me now and then/ Cause I'm comin' home again."
The couple also named their most recent daughter after West's hometown: Chicago West.
Knowing all of that, it's no surprise that West recently announced, during an event with Chance the Rapper in Chicago, that he intended to move back, as People reported. West made the announcement during an OpenMike event for Chicago high schoolers, according to People.
With West making it clear that he intends to move back home, people are likely wondering if his wife, Kim Kardashian, along with their three kids, will make the move with him.
One Twitter posted a vide of the moment, captioned, "@chancetherapper just brought out @kanyewest at @OpenMikeChicago and he announced he's moving back to Chicago FOR GOOD."
In the video, West can be heard saying, "I gotta let you all know that I'm moving back to Chicago and I'm never leaving again."
People in the video can be seen immediately cheering. The announcement came after West was seen snapping pictures of his childhood home, as reported by the Daily Mail.
"Kanye West finally moved out of the sunken place (hidden hills / Calabasas) and moved back to Chicago," one user tweeted, with their own video of West's announcement attached.
After the news had some time to settle, and fans were given a minute to process, many were curious about Kardashian's response. Would she be making the move, too?
One fan captured everyone's feelings by jokingly tweeting, underneath West's announcement, "kim rn", with a GIF of a confused dog attached.
It seems that Kardashian and West aren't going to completely abandon their properties in L.A. According to TMZ, Kardashian and West have already located a home within Chicago, but plan to keep all of their L.A. properties. That would make sense, considering the couple just recently built a mansion there.
In addition to locating housing, it seems West already has plans to move his YEEZY brand. On Sept. 9, West tweeted, "We're putting a Yeezy office in Chicago."
As of now, YEEZY is headquartered in Calabasas, California, as reported by Highsnobiety. With Calabasas only an hour away from L.A., it's unclear if West intends to keep YEEZY headquartered there or abandon the California location entirely.
Aside from rumors about the couple having a new Chicago property, Kardashian herself has yet to confirm if she plans to make the move. It's possible that she may choose to stay in L.A. with their three children. Kardashian is pretty close to her mom, having lived with Kris Jenner during their mansion's remodel in 2016, as reported by People.
Completely abandoning the extensive support system that family offers, plus uprooting the kids, would also be a lot.
It might seem completely random for West to make this move now, but he's never stopped talking about Chicago. And if Kardashian makes the move, too, it'll be interesting to see how the Kardashian-West family settles in.