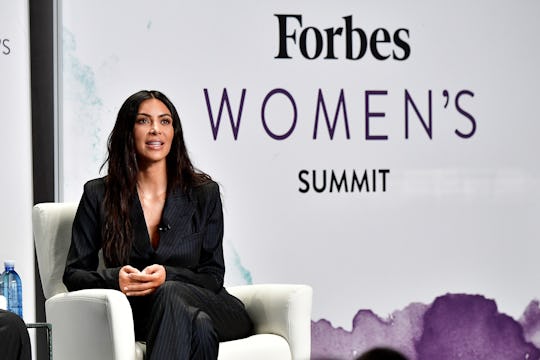 Dia Dipasupil/Getty Images Entertainment/Getty Images
Is Kim Kardashian's Surrogate Having Twins?
While much of this week's headlines have been uber-political (and, unfortunately, uber-negative), there is some good news as well. The Kardashian-West clan will reportedly be expanding soon! As news broke on Wednesday that Kim Kardashian's surrogate is reportedly pregnant, many began to wonder: Is Kim Kardashian's surrogate having twins, à la Beyoncé and Amal Clooney? For now, it seems as though only limited information is being released about the pregnancy.
Update: Kim Kardashian West confirmed to Ellen Degeneres that she was expecting a girl through surrogacy.
Earlier: As TMZ reported in June, Kardashian and her husband, 40-year-old rapper Kanye West, chose to seek a surrogate for their third pregnancy. Following Kardashian's fertility and health struggles during her first two pregnancies, the couple made the decision to look for someone else to carry their baby this time around. Now, it seems as though the couple has chosen a woman to carry their baby and she is reportedly already three months along. According to Us Weekly, "Their pick — a San Diego mom in her late 20s, referred by an agency — is three months along, which means they'll likely welcome baby No. 3 in January 2018."
However, because it's Kim Kardashian, people are already asking questions. And since the surrogate may have had multiple embryos implanted, which can so often result in the birth of multiples, the question of whether Kardashian's surrogate will have twins is certainly a valid one.
Back in 2013, when Kardashian was pregnant with her first child, 4-year-old North, she was diagnosed with preeclampsia and placenta accreta during delivery, which she had to undergo surgery to alleviate.
In describing her struggles delivering North on her website, Kardashian said:
Last pregnancy, I had a condition called preeclampsia, which is a serious condition you can get during pregnancy; often, the only way to get rid of it is to deliver early to protect yourself and the baby. Only about 5 percent of woman get this. Lucky me! It causes your body and face to swell, and that was very uncomfortable for me. I had early-onset preeclampsia and I had to deliver at 34 weeks, almost six weeks early.
Then, after she gave birth to Saint in 2016, Kardashian again struggled with her pregnancy and delivery, causing her to explore other options. Now, it seems as though all that waiting and searching has paid off.
But it's still unknown if Kardashian's surrogate will have twins, although as TMZ has reported, the couple would have to shell out some big bucks if that were to happen. Here's a cost breakdown, per TMZ:
$45,000 in 10, $4,500 monthly installments.
If there are multiples, the surrogate gets $5k for each additional kid.
If the surrogate loses reproductive organs, she gets $4,000.
Kim and Kanye are also required to deposit $68,850 with the agency.
Of course, it doesn't matter how many kids Kardashian's surrogate will have, as long as they're happy and healthy babies, and as long as the surrogate has a smooth delivery.
Congrats, Kim and Kanye — and cheers to becoming a family of five (or more)!