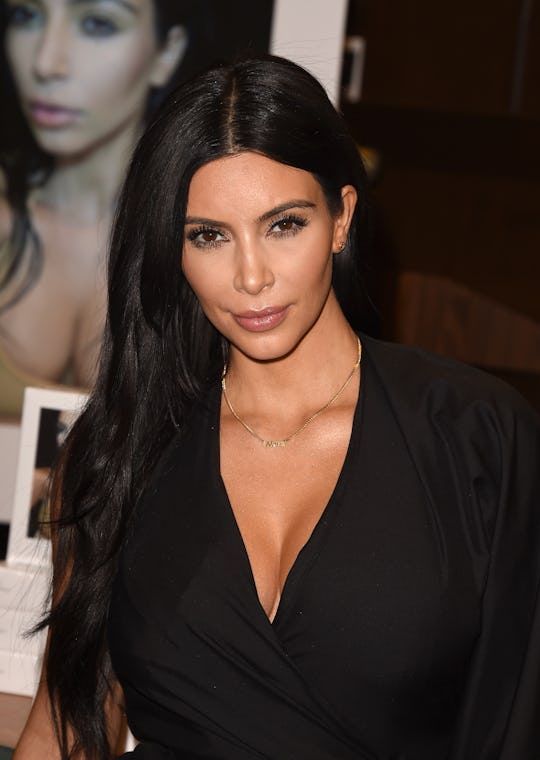 Is Kimoji, Kim Kardashian's App, Free? Of Course Not, And People Aren't Happy
The world got an early Christmas present on Dec. 21 when Keeping Up With The Kardashians star Kim Kardashian released Kimoji, an app that features Kardashian-inspired emoticons, many of them breast and butt-themed. The app quickly rocketed to number one on the iTunes chart for paid apps (it's since dropped to six), but despite its popularity, many potential customers found themselves scratching their heads at the all-important question: Is Kimoji free? The answer — a resounding NO, it costs $1.99, folks! — has many insisting that Kimoji is just another way to line Kardashian's pocket.
The price of the app isn't the only complaint. Kimoji isn't compatible with Instagram or Twitter, and it requires that users have iOS 8.0 or later. This is all pretty standard, though, for new apps, so this really isn't grounds for a valid complaint. (That certainly doesn't stop people, though.) Kimoji does work with iMessage, WhatsApp, Facebook Messenger, and email, according to Racked, so there are certainly a number of venues to express yourself via an image of a bulbous butt or of thong-clad ankles, if that's what you're into.
The issue over the price, though, seems to be a deal-breaker for some, including this Twitter user, who found the perfect way to express their disappointment:
Or this Twitter user, who seems more interested in Kendall Jenner's emotions anyway:
There's good reason to think Kimoji clients might be shelling out even more money in the future, too. It seems the Kimoji app includes an option to select "additional Kimoji bundles." While there aren't any bundles at the moment, this certainly seems like confirmation that there will be some in the future--accompanied by, presumably, a new price tag.
Considering Kardashian's aptitude for making big money, the price of Kimoji really isn't surprising. The 35-year-old entrepreneur has launched several profitable clothing and fragrance lines, and her first app, Kim Kardashian: Hollywood, has brought in hundreds of millions, according to Forbes. It seems likely that Kimoji will soon follow suit, even if Kardashian has lost some potential users over the price issue.
Image: Jason Merritt/Getty Images Entertainment