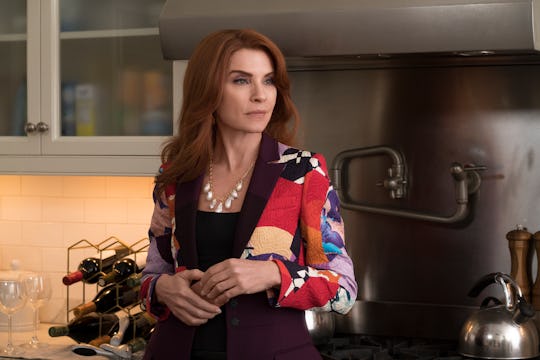 Patrick Harbron/AMC
Julianna Margulies Returns To TV As Kitty Montgomery On 'Dietland'
An all-new dark comedy is coming to AMC and it looks like it'll be a hit. Emmy award winner Julianna Margulies stars in the new series, Dietland, as Kitty Montgomery, an editor at the fictional NYC-based fashion magazine, Daisy Chain. While Kitty may give you serious Miranda Priestly vibes, you may find yourself asking is Kitty actually based on a real person?
While Kitty may remind you of some fashion editors you know, she's actually based on the character in the book Dietland is based on. The book, which has the same title, was written by debut author Sarai Walker and published in 2015. Though Kitty probably believes she's the protagonist of her own story, Dietland is actually about Plum Kettle, the plus-sized women who ghostwrites Kitty's letter to the editor responses. In the novel, Daisy Chain was a teen magazine, but for the show it's been aged up to a fashion mag.
In the TV series, Kitty will be focused on the fact that she's aging and what that means for her and her ideas of beauty. Meanwhile, Plum will be struggling to come to terms with her size, while working around women who are much thinner than she is. It's while contemplating where she fits in a world that doesn't see her as the standard of beauty that Plum learns of two different groups.
The first is "Jennifer," a vigilante group of women that kill men accused of sexual abuse and assault. The second is a women's collective led by the daughter of disgraced diet gurus, Verena Baptist (Robin Weigert). Her hope is to fix the damage her parents did with their bogus weight-loss religion and she wants Plum's help. As Plum gets involved with both groups she begins to reconcile with her weight and the idea of what really makes someone "beautiful."
However, the show's use of dark humor prevents Dietland from being a sappy show all about finding your "inner beauty." It's confronting a number of issues that fits perfectly with the current #MeToo and #TimesUp movements. Additionally, Plum's relationship with Kitty and their dynamic also illustrates the various issues women come up against in their professional and personal lives. Dietland is multi-dimensional in what it seeks to tackle and early reviews seem to indicate the show does a good job at what it's aimed to do.
The feminist series was created by Emmy-nominated writer Marti Noxon, who's well known for her work on UnREAL, Mad Men, Glee, and Buffy the Vampire Slayer. Her ability to tell women's stories in a way that feels real and authentic shines in this new series. Additionally, Margulies and Joy Nash, who plays Plum, expertly bring their characters to life in humorous and heartfelt ways. This also marks Margulies first return to the small screen since The Good Wife ended and it's a pretty epic return. Though the her role as Alicia Florrick is widly different than the role she's playing now, Margulies plays the role of Kitty well.
The series also features Adam Rothenberg as Dominic; Tamara Tunie as Julie; Will Seefried as Ben; and Ami Sheth as Sana. With this incredibly cast and crew it should be no suprise that the series has already gotten high praise ahead of it's series premiere. Though the show hasn't been renewed for a second season yet it wouldn't be a surprise if there was an early renewal in it's future.
Dietland is definitely a series to watch and it's one people will certainly be discussing, so you won't want to miss it. You can see what all the hype is about when Dietland airs it's two-hour premiere on AMC on Monday at 9 p.m. EST.